When she turned ten, Ruby Thomas asked to meet the woman who had stood outside a clinic and shyly handed a little card to Ruby's pregnant mother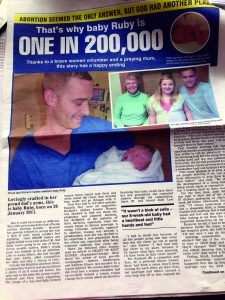 Long-time readers may recall the inspiring report of the unexpected birth of little Ruby Thomas back in 2011.
It was unexpected because Ruby could have been one of the 200,000 unwanted babies aborted that year.
Her parents were a typical young couple whose relationship was around a month old. Tara, her mother, didn't feel ready to have a baby. Her boyfriend Richard, whose mother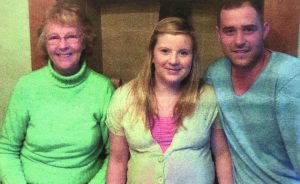 Joanna Thomas is a strong Christian, was reluctant, but accompanied his pretty blonde girlfriend to the Brighton abortion clinic.
Outside the clinic, a woman stepped forward nervously and gave them a little card. This was a pro-life Christian, Judy Law, who was part of a local group praying for babies' lives to be saved.
In contrast to the accusations of intimidation levelled at pro-life activists, Judy was trembling as she shyly handed Richard and Tara a small card showing an aborted foetus.
Once inside, Tara had to change into a hospital gown, ready to be operated on. While awaiting her turn, though, she couldn't get the photo of the aborted foetus's eyes out of her mind:
"It wasn't a blob of cells as we'd been told; the picture showed our eight-week-old baby had a heartbeat and tiny hands and feet."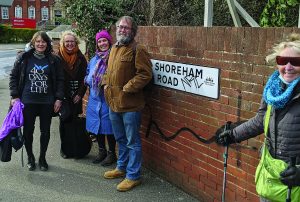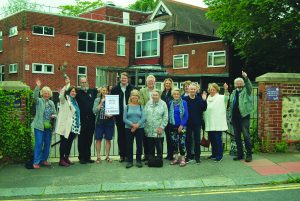 She told Richard, "I can't go through with this."
Richard's response was immediate: "Get dressed and let's go."
Outside the clinic they met Judy again and told her of their decision. Judy was thrilled; she had been tired that day and unwilling to go out in the cold, but she had made herself go and now a baby had been saved.
As soon as Richard's mother Joanna heard that a stranger had saved her grandchild, she made a point of contacting Judy to thank her, and Judy was able to meet Ruby soon after her birth in January 2011.
Meanwhile Richard and Tara got married, although sadly they are no longer together. Nonetheless, Joanna says Ruby is a very happy little girl, who had been told about Judy's role in her life when her parents felt she was ready.
Soon after her tenth birthday last January, Ruby told Tara one day: "I want to meet the lady who saved my life. Can you get her on the phone right now? I want to thank her. She saved me from being sucked out of my mummy's tummy."
Ruby's wish was granted; she called Judy and later Ruby met her lifesaver via Zoom.
She will never know exactly why she was saved out of the millions of babies who did not survive, but if she had not had a grandmother who regularly prayed for her handsome son (and hoped to have grandchildren), the ending would probably have been very different.
"She saved me from being sucked out of my mummy's tummy"
---
Pro-life campaigner Caroline Hubert
Caroline Hubert, a notable pro-life campaigner and mother of eight, passed away in September 2021. 
Married to Jeremy, they were well-known Christians in Brighton with a large, hospitable household.
Caroline had been suffering from cancer, but her courage and cheerfulness continued to the end.
She had been a leading light in 40 Days for Life, a peaceful prayer vigil held outside the local abortion clinic, and celebrated the clinic's closure earlier this year, along with Judy Law, the campaigner who saved Ruby Thomas's life, above, and Judy's daughter Kym Reeves.
Caroline did more than pray; she was involved with providing support and accommodation for women who kept their babies. A report from her in 2012 says:
"Today we were very encouraged by a man who stopped with a baby in a pram. He declared his support and appreciation for our stand (although he said his wife did not support us). He told us that he is a nurse and that he has worked in abortion clinics, describing the work as 'very harrowing indeed'. It is always refreshing to receive such affirmation in the face of a lot of the opposition."
Pro-life activist Judy Law celebrating with parents to be Tara and Richard
Vigil participants celebrating the clinic's closure
Kym Reeves, Caroline Hubert, Jayne Lynch, Sheridan Lynch, Judy Law outside the closed Brighton abortion clinic in spring 2021