"Freedom of religion will be at heart of government policy"
Foreign Secretary Jeremy Hunt and the Bishop of Truro, Rt Rev Philip Mounstephen
After years of virtual silence over the suffering of Christians around the globe, the government has pledged to fight Christian persecution – including imposing sanctions on countries which tolerate it.
It will even consider adopting the term 'Christophobia' for anti-Christian discrimination.
The government was reacting to the review of Christian persecution chaired by the Bishop of Truro, released in July. It warns that persecution levels in some countries, such as Boko Haram's massacres in Africa, could be defined as genocide.
"Christians suffer more persecution than any religious group"
An at times emotional debate in the House of Commons on 18 July concluded with a pledge from former Minister of State Sir Alan Duncan to accept the Bishop's recommendations in full.
Sir Alan Duncan told the Commons, "Christians suffer more religious persecution than any religious group in the world… The evidence justifies a much louder voice…"
Freedom of religion will now be central to the Foreign Office's "culture, policy and operations", and diplomats will be given guidance on how to reflect these values.
Sir Alan said, "We will carefully examine whether adopting the label 'Christophobia' will better inform FCO (Foreign and Commonwealth Office) policies to address the problem."
Jeremy Hunt, who commissioned the report back in January, was able to ensure this significant legacy while Foreign Secretary in the dying days of Theresa May's government.
Ironically, the FCO itself has been accused of discriminating against Christians in its distribution of foreign aid and in asylum cases. The most prominent recent example was the plight of Pakistani Christian Asia Bibi, whose family say the UK was Asia's preferred destination for asylum, yet she was not offered refuge here.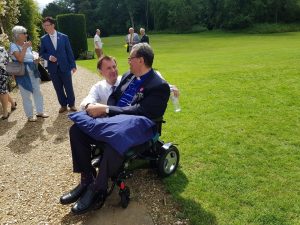 The government will try to work across Whitehall to share data and will "respond immediately to any atrocity, including genocide", including imposing sanctions on the perpetrators of religious persecution.
It will also seek a new UN Security Council resolution urging Middle Eastern and North African countries to protect Christians and allow in UN observers.
The Bishop of Truro, Rt Rev Philip Mounstephen, said he was "very pleased" at the government's acceptance of his report. He added, "I am delighted that Sir Alan has formally recognised the need for a response across the rest of government."
Paul Robinson, CEO of Release International, which had contributed to the Truro report, said, "We are delighted that the minister has pledged to take the protection of Christians into the very heart of government policy. We hope it will send a vital message to governments everywhere that this violence has to stop."