Northern Ireland's First Minister Arlene Foster says the court decision over the Christian bakers' case is having a chilling effect on freedom of religion.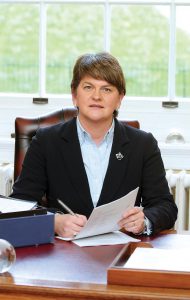 Mrs Foster has been contacted by a number of Christians who are now afraid to live out their beliefs.
The situation has arisen since 24 October when the Court of Appeal in Belfast found the Ashers Baking Company had discriminated against gay rights campaigner Gareth Lee. The Christian business had refused to make a cake carrying the slogan 'Support Gay Marriage' two years ago.
But the court also criticised the Equality Commission for Northern Ireland (ECNI) for its lack of assistance to the faith community. Mrs Foster implied that the Commission, which took Ashers to court, was showing inequality itself by taking one side in the case: "It is incumbent upon the Equality Commission to indicate to the Executive how it intends to remedy what has been pointed out to it by the court and what affirmative action it intends to take in terms of faith communities.
"I have to ask this question: where is the balance in dealing with faith communities in Northern Ireland? It is something I will be asking the Equality Commission to comment directly and give me some feedback on that.
"There is certainly a chill factor there for faith communities. That is communicated to me weekly, and the commission have to take notice of it."
In a dramatic intervention, the Attorney General for Northern Ireland  was considering referring the case to Britain's Supreme Court. This was to be decided on 22 November.