Foodbank use has risen to a level that is a "huge scandal", according to the Bishop of Salisbury.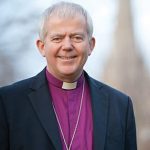 The Rt Rev Nicholas Holtam made this comment after Christian food bank charity Trussell Trust said it had given out over half a million food parcels in the first six months of this year.
Trussell Trust now runs 400 food banks across the UK and is distributing the highest number of food parcels in its 12-year history.
Bishop Nicholas told Premier: "We need to find a way of not dealing with [struggling families] through charity, though that's a good thing, but actually finding a way of dealing with them justly in the normal processes of the state."
Trussell Trust director Adrian Curtis told Premier Christian Radio: "Everybody who has been referred to the food bank is in a position where they're struggling to put food on the table and pay a bill, for example."
The Trussell Trust says 44% of its referrals are related to benefits being changed, delayed or stopped.