The vicar's daughter who laid down her life with grace and trust in the God of her salvation
Edith Cavell, faith before the firing squad
by Catherine Butcher
with foreword by Baroness Caroline Cox
(Monarch Books, £8.99)
by Carole Woodiwis
Edith Cavell was a British nurse whose execution by the Germans in WWI echoed round the world like the four shots which rang out and killed her at dawn on 12 October 1915. 
She cared for injured soldiers, but was condemned to death for helping allied soldiers to escape from occupied Belgium.  She knew she was in danger but would not risk losing one British soldier.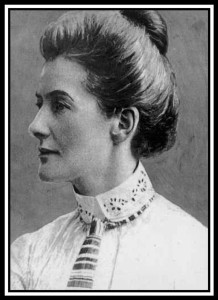 This book traces Edith's life. She was the daughter of a country vicar, and lived within the Christian society of the late 19th and early 20th centuries.  Catherine Butcher shows how the Christian faith was woven through the nation: Our culture was imbued with faith, like a protective bulwark. The book should be read for this reminder alone.
Edith's life-long pattern of reading the Book of Common Prayer night and morning was established early.  She and her siblings were brought up in the faith and were well educated, largely by their parents. She had to leave to seek work as a governess and somewhere in her next ten years she moved from being a fun-loving person who enjoyed sport to someone much more serious. This might have been due to unfulfilled hopes of marriage to her beloved second cousin, Eddy.
Approaching 30, she applied to train as a nurse at the London Hospital a new, demanding training based on Christian principles. After some challenging times, Edith was asked to set up training for nurses in Belgium. She relished the opportunity and the training she established conformed to her own at the London Hospital, including daily prayer.  The first aim was to "create a profession for women", allowing "an independent life."
Her arrest came when she was preparing to open an expanded purpose-built training school, a much desired project for which she gave instructions for completion. She spent ten weeks awaiting trial, reading the Christian classic, Of the Imitation of Christ by Thomas à Kempis, and reflecting on her life.
"I have no fear nor shrinking…life has always been hurried and full of difficulty.  This time of rest has been a great mercy," she wrote.
Her advice to a charge she cared for could be her own life's motto  "Try and find something useful to do, something to make you forget yourself while making others happy."
The author is careful to detail Edith's forgiveness and asking for forgiveness from those near to her, her confidence in everlasting life and her preparation the day before the firing squad. She wrote, "I want you to know I am neither afraid nor unhappy, but quite ready to give my life for England."
Yet a little later during her final communion she said, "Standing as I do in view of God and eternity, I realize that patriotism is not enough.  I must have no hatred or bitterness towards anyone."
The last sight her nurses had of her was sitting bolt upright between two German guards in her blue nurse's uniform.
Edith's life is both an example and a challenge to us. As Baroness Cox, who also trained at the London Hospital asks in her foreword, "How effectively are we putting our own faith into practice in our own lives in our own day?"
A reminder that our culture was imbued with faith, like a protective bulwark.