Welby challenged to find Curry's creed indigestible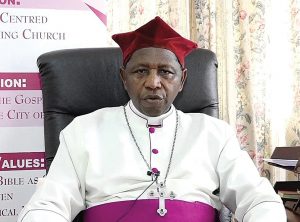 Senior worldwide Anglicans have issued a direct challenge to Archbishop Justin Welby to ban bishops from churches which accept same-sex unions. This would include the celebrant of Prince Harry and Meghan Markle's wedding, Bishop Michael Curry of the US Episcopal Church, which has allowed same-sex weddings since 2015.
When the third Global Anglican Future Conference (GAFCON) met in Jerusalem in June, it issued a challenge to the Archbishop of Canterbury to maintain the true faith.
GAFCON, which wants the Church to stick to traditional biblical beliefs, released a 'Letter to the churches' calling for the discipline of those within the Communion who have abandoned the Bible's teaching on sexuality.
The letter is a direct challenge to Archbishop Justin Welby's attempts to retain the unity of the worldwide Communion, since GAFCON members are refusing to attend his Lambeth 2020 conference unless Welby excludes bishops from churches which accept same-sex unions.
Archbishop Stanley Ntagali of Uganda said: "Unless godly order is restored in the Anglican Communion we shall not attend other meetings invited by Canterbury… The Church of Uganda is an evangelical church, and we obey Christ and the authority of the Bible, and the apostolic faith. So we have no apology for the stand we have made."
Rico Tice, the Anglican evangelist who co-created the Christianity Explored course, has resigned from the Archbishops' Evangelism Task Group because of the Church's increasing political correctness.
Hull vicar Melvin Tinker warned against the Archbishop of Canterbury's goal of 'mutual flourishing', saying: "We don't want 'mutual flourishing'. We want the Gospel to flourish. We want orthodoxy to flourish."