Last issue we published the testimony of physiotherapist Kerry Stillman who sees miracles of God's healing power in sub- Saharan Africa.
Now Charles Gardner reveals she also has an extraordinary brother! Read the heart-warming story of Sean Stillman's God's Squad motorcycle clubs
When a preacher's kid found his heart freshly stirred by the Sermon on the Mount, it became part of God's call for him to reach out to the margins of society.
"Blessed are the poor in spirit" and other well-known sayings of Jesus drove Sean Stillman to appreciate the value of those who recognise their fragility and brokenness.
Misfits
It led to the founding of God's Squad motorcycle clubs to share the message of Christ with those whom many might regard as misfits.
It helped that Sean loved bikes himself, but his mission widened until it also embraced the homeless and others struggling to make sense of life. He invited them to meetings at a backstreet city centre venue in Swansea, South Wales, called Zac's Place – named after the friendless tax collector Jesus loved.
Otherwise known as a 'church for ragamuffins' and originally a 'church in a pub', regulars are encouraged to pour out their troubles in a caring atmosphere where love and concern are demonstrated in more than mere words.
'Services' are very informal in a bar-style setting where meals are shared and spiritual food for thought is also served. Gigs too have been held there over the years, including a night with sixties legend Barry McGuire.
Bullied
Sean grew up in a Christian home in rural Berkshire and his dad has invested his entire career in sharing the Gospel with prisoners. Being small in stature, the preacher's son got picked on and bullied at school, which inevitably helped him to understand the plight of those who struggle to fit in.
After several decades on the road covering some half a million miles, Sean looks back on his unique ministry in his beautifully written book, 'God's Biker' (SPCK, 2018), shortlisted for best biography at the 2019
Christian Resources Together Awards.
Beating
Being up front about their faith, their jackets emblazoned with God's Squad colours, wasn't always acceptable behaviour to fellow bikers. After one event, Sean and his pals returned home black and blue following a severe beating by rivals who took exception to their Christian affiliation.
He came to wash her dirty, stinking feet
There were times when he felt like giving up, but he persevered through thick and thin and saw many fellow bikers added to God's family in the process.
Sean's recollections are refreshingly honest, deep and searching. There is clearly nothing shallow about him, and I especially liked the sublime – yet superbly understated – way in which he described his courtship and marriage to Jayne, with whom he has four children.
Without giving too much away, I conclude with two cameo excerpts which help to show his heart for the lonely and dispossessed, as well as being perfect examples of the reconciling power of the Cross.
Her murderer stole the book which eventually convicted him of his sin and brought him to Christ
Disturbance
Jenny was a regular at Zac's Place. Though only 40, the wear and tear of life on the streets made her look much older. One night she caused a great disturbance after coming in drunk in the middle of a meeting.
Then an Australian man called Glenn went off to fetch a basin, filled it with water, and came to wash her dirty, stinking feet.
The atmosphere immediately changed and Jenny began singing, "Jesus loves me, this I know, for the Bible tells me so".
She eventually left the building singing that song, but tragically died just a week later. At her funeral, her father, who had long been hoping and praying for her to return home, movingly revealed how he used to sing her to sleep with that song when she was a little girl.
Jesus demonstrated his humility and servanthood by washing his disciples' feet. For all her struggles and shortcomings, Jenny just needed to know that kind of love.
Warfare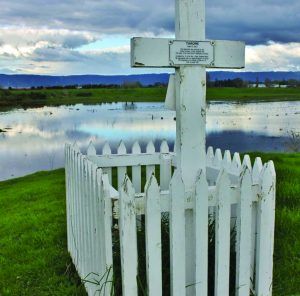 God's Squad now operates in other parts of the world, and the other story concerns a visit to New Zealand to help establish God's Squad there. The president of its branch was actually a priest with a great love for the Maori people who took Sean to visit the grave of a 12-year-old girl – a victim of tribal warfare in 1836.
Tarore was the daughter of a Maori chief who was gifted a copy of Luke's gospel by a teacher at the mission school she attended. The book became so precious to her that she wore it in a flax bag around her neck.
Sensing it might be of some value, her murderer stole the book which eventually convicted him of his sin and brought him to Christ. He subsequently asked forgiveness of the girl's father, an action that brought peace to the warring tribes that continues to this day.
And so it was that Tarore's death brought reconciliation to the Maori people through the blood Jesus shed on the Cross.
Sean and his pals returned home black and blue following a severe beating by rivals who took exception to their Christian affiliation
Sean has since completed an MA in Applied Theology with Moorlands College and was elected God's Squad International President in 2019. However, in 2021 he was diagnosed with Parkinson's, but says that "the period of writing and self-reflection really did prepare me for this diagnosis in a way I could not have imagined."
More details from www.exousiatrust.blogspot.com