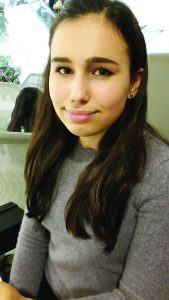 The tragic death of beautiful teenager Natasha Ednan-Laperouse, who suffered a severe allergic reaction while eating on a plane, touched the hearts of the nation.
Natasha, 15, collapsed on the flight to Nice in 2016 after accidentally eating sesame seeds in a baguette; the seeds had not been listed on the packaging.
"The angels looked like human beings"
But a ray of comfort came literally to her atheist father as she passed away in his arms: he saw supernatural beings. Businessman Nadim Ednan-Laperouse said of his daughter's dying moments: "Just as it couldn't get worse, these five angels just appeared, and this… strong, soft yellow light… They were about 20 cms tall, not chubby like children in a Renaissance painting… but actually like human beings, all looking at me, moving around Natasha."
Nadim, the owner of Wow Toys in Isleworth, west London, revealed the Damascene moment in a radio programme broadcast on Christmas Eve and insists he was not hallucinating: "I've always been calm and stalwart in times of stress… What have I to gain by making this up?"
Before she died, Natasha had been attending Everyday Church in Wimbledon and had wanted to get baptised. The family have now become Christians and worship there.
Today, Nadim believes God sent the winged figures to comfort him: "Our child was spirited away to heaven with the angels."
To prevent other families suffering as they had, Nadim and his wife Tanya founded The Natasha Allergy Research Foundation, which led to the introduction of Natasha's Law, requiring all food businesses to include a full ingredients list on pre-packaged food.
"We remind those in power that we are all God's children"
Nadim told HEART, "Our charity has a strong Christian ethos and we bring God into our conversations with government and big business leaders. We feel that it is what God wants us to do – remind those in power that we are all God's children and we will all answer to him, no exceptions."