By Andrew Halloway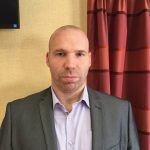 Prayer leader David Borlase is lamenting the Church's apathy in the fight against abortion, as the 50th anniversary of the legalisation of abortion looms.
The Director of the Intercessors for Britain prayer alliance told HEART: "The 50th anniversary of the passing of the Abortion Act in October this year stands as one of the biggest stains on our nation's history. Why is it that governments have been and are considering extending abortion rather than restricting it? Because the nation's moral conscience – the Church – has been silent on the issue!
"The Church has grown progressively more silent about abortion, yet here we are 50 years on and nearly nine million babies lost. What will it take for the Church to speak up? Like the slave trade, this barbaric practice of destroying the lives God has given us will only end when the people of God make a stand."
In July, the CEO of the British Pregnancy Advisory Service, Ann Furedi, downplayed the significance of abortion: "Family planning is contraception and abortion. Abortion is birth control that women need when their regular method lets them down."
Her dismissive comments came after a BPAS report that backed the recent decision of the British Medical Association to campaign for unrestricted abortion right up to birth, despite the improvements in medical care that mean babies can increasingly survive at just 23 weeks, and against public opinion. Christian Concern's Andrea Williams says: "Recent polling shows that only 1 per cent of women want to legalise abortion up to birth… 70 per cent want the current limit of 24 weeks to be lowered."
Dr Anthony McCarthy of pro-life organisation SPUC said: "The BMA has betrayed all who take seriously healthcare for pregnant women in favour of an extremist agenda in line with the abortion industry's laissez faire 'up to birth' attitude."
And in June, the Government agreed to fund abortions in England for women from Northern Ireland, where abortion is still heavily restricted, meaning that more babies will be aborted. Scotland and Wales swiftly followed. But the Court of Appeal in Belfast held firm – ruling that Northern Ireland's laws on abortion are not incompatible with human rights.
David Borlase has written a free booklet to inspire churches to think and pray about this sombre anniversary, available from Intercessors for Britain. See the Events section for their next prayer day