Peshawar bomb victim dies
A YOUNG WOMAN HAS SADLY DIED following the 2013 Peshawar bomb attack.
Farha Javeed, aged 26, was made bed-ridden and dependent on colostomy bags due to her injuries.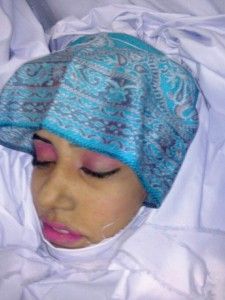 The double suicide bomb attack killed 80 churchgoers at a Sunday mass being held at the All Saints Church in Kohati Gate, Peshawar city in September 2013. Two Taliban-linked Islamist groups later claimed responsibility to avenge US drone attacks.
Ishtiaq Gill, an officer of the British Pakistani Christian Association, said: "She always told me that despite her difficulties she knew God was preparing a better life for her in heaven, and I take comfort in her strong faith."
Death sentence mum waits for last court hearing
A MOTHER OF TWO GIRLS still faces a death sentence for expressing her faith in Christ during a conversation with Muslim women in Pakistan in 2009.
Asia Bibi got into an altercation with fruit farm workers who refused to share water with her because of her Christianity.
Asia replied: "Our Christ sacrificed his life on the cross for our sins. Our Christ is alive."
Police arrested her for blasphemy and a subsequent death sentence was upheld by the Pakistani High Court. The judges later said blasphemy laws in Pakistan gave them no choice.
Asia is now waiting for the date of her Supreme Court hearing which will be her last chance to be released. Her only other option is a direct Presidential pardon which has never happened before in such cases.
Smiles from gang rape victims
SMILES WERE UNEXPECTED from the faces of two sisters when handed Bibles and gifts by a worker for the British Pakistani Christian Association (BPCA).
Both girls were victims of a brutal gang rape and they met BPCA officer Mehwish Bhatti at their family home in a village 100km from Faisalabad.
"Sometimes it is the small gestures of love that can bring the longest peace and happiest moments', Mehwish reports.
Pakistani believers 'at risk' status in The Netherlands
PAKISTANI CHRISTIANS have been recognised as a 'risk group' by the government of The Netherlands giving them legal status as refugees in the country.
Both the Middle East Forum for Development (MEFD) and British Pakistani Christian Association (BPCA) have praised the decision. Christians in Pakistan face severe persecution on a daily basis as a result of the Islamist culture and Sharia laws.
 Chris Eyte