Nigerian church and government officials brought a large financial gift to Jerusalem for Israel's Magen David Adom, the local equivalent of the Red Cross.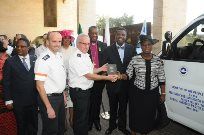 The 40 million strong Nigerian Redeemed Christian Church of God (RCCG) had previously donated a new ambulance.  RCCG has branches in the UK, including in Brighton.

The donation ceremony was attended by many Christian pilgrims and senior church officials, as well as the Nigerian ambassador.