Tory minister tackles 'woke' police
Home Secretary Suella Braverman has warned the police not to take sides on controversial issues.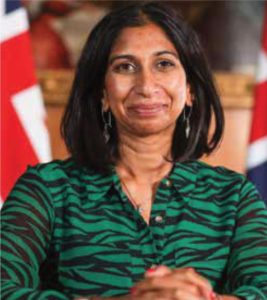 In her letter to police chiefs in England and Wales, she praised the courage and commitment of officers, but wrote that public confidence in the police is undermined when they appear to support one side in the 'culture wars'.
The Evangelical Times reports Braverman as saying that painting police cars with LGBT rainbows or opposing people who disagree with transgender ideology makes the police look biased.
She also reminded the police that silent prayer is not illegal. Several people have been arrested in local council 'buffer zones' around abortion centres even though they were not protesting (see HEART April/May 2023).
She reminded police that silent prayer is not illegal
Braverman's move was welcomed by religious freedom group ADF UK, which represented Isabel Vaughan Spruce in court when she was arrested for praying silently. ADF lawyer Jeremiah Igunnubole told Premier News: "Too often, of late, arrests have been justified by reference to subjective notions of offence rather than an objective application of the law. Politicised policing seriously threatens democracy, which relies on the right to freedom of speech and free and frank exchange of viewpoints to be effectively realised."
Meanwhile, legislation that might extend buffer zones across the country is under consideration, and MPs have already voted against protecting prayer and offers of help to women in the area around abortion clinics.
---
Dead teen's family was "gagged" by court
The family of the 19-year-old girl who died after NHS doctors were given the right to withdraw treatment wants the world to know what really happened to their courageous daughter.
Until 22 September, gagging orders forced anonymity on Sudiksha Thirumalesh's family; she was only known as 'ST'.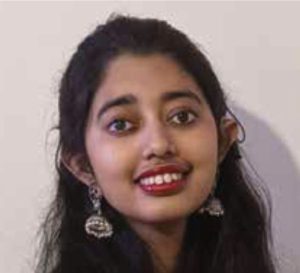 Sudiksha died on 12 September from cardiac arrest after suffering from mitochondrial depletion syndrome – a rare genetic disorder.
The Christian family spent all their savings on lawyers as they tried to stop the NHS from ending their daughter's life. Now they are campaigning against the law which prevents cases related to the Mental Capacity Act from being made public. The court orders also kept Sudiksha from fundraising to have experimental nucleoside therapy in Canada or the USA.
Her father, Thirumalesh Hemachandran, told The Daily Mail on 23 September: "We feel like the justice and the medical system were working hand-in-glove to fail our daughter and her wishes to seek nucleoside therapy."
Sudiksha was a straight-A student and was even researching the A-levels she hoped to do once released from intensive care. She had hoped to do a Healthcare Science degree.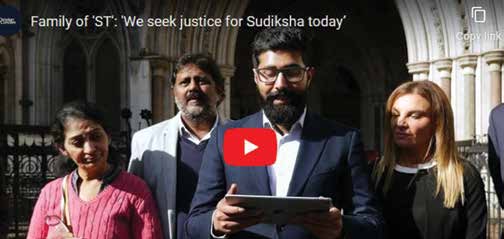 In a statement read outside the court after restrictions were lifted, her brother Varshan, 27, said: "We were brutally silenced, intimidated, and taken to court in the hour of our need. It is shocking that a family in the middle of stress and tragedy had a threat of imprisonment hanging over their heads.
"Sudiksha was called 'delusional' by the judge for saying she wanted to live. The ruling from Mrs Justice Roberts was cruel; no patient or family should be treated this way.
"We want to thank the medical practitioners who did their best for Sudiksha. To those few clinicians who seemed only to care about Sudiksha dying, we forgive you."
The Christian Legal Centre, which gave the family free legal assistance, is fundraising to help the family pay off their previous legal fees and continue their fight for justice.
Christian Concern reports that the current practice in end-of-life disputes between families and the NHS is for the court to "impose draconian reporting restrictions so that the identities of families and doctors involved in the case never become known. That controversial practice is currently under scrutiny in an ongoing Supreme Court appeal arising from two other high-profile end-of-life cases, Isaiah Haastrup and Zainab Abbasi."
---
Franklin Graham set for Birmingham and Glasgow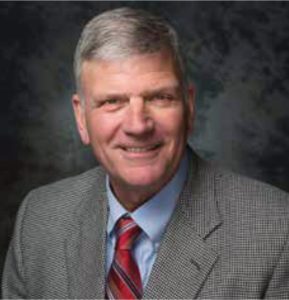 After a successful event at the London ExCeL in August, US evangelist Franklin Graham is coming to Birmingham and Glasgow next year.
The 'God Loves You' tour is scheduled for the Resorts World Arena in Birmingham on 15 June and the OVO Hydro in Glasgow on 22 June, 2024.
This follows legal victories over all six UK venues that previously cancelled him due to accusations of homophobia. Graham's organisation, the BGEA, sued and won on the grounds of freedom of speech and religion.
They won on the grounds of freedom of speech and religion
Speaking to Premier Christian News, Graham said the court cases were not just a personal victory but a win for UK churches. "The Church can be bold and stand up and preach the truth. And if we're challenged, knowing that we have the freedom to continue, because we cannot allow just a few people to shut us down because they disagree."
---
Christian GP cleared of misconduct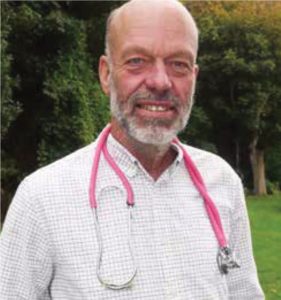 A doctor who prays for his patients has been found not guilty of serious misconduct by a medical tribunal – but has been warned that he "overstepped the  oundaries".
Premier News reports that Dr Richard Scott was defending himself against a complaint filed by the mother of a teenager with Attention Deficit Hyperactivity Disorder (ADHD). The GP shared his Christian faith with the patient, prayed with him and gave him a Bible.
The GP prayed with the patient and gave him a Bible
The Manchester tribunal accepted that Scott had asked permission to talk about spirituality with the teenager, who did consent, but will consider if Scott should receive an official letter of warning. Scott has already had a first letter, back in 2012, over a similar incident.
Last year, the doctor challenged NHS England over its disciplinary measures for GPs who offer to pray for patients, and reached a settlement where NHS England agreed that Scott "may discuss spiritual care with patients" – yet he still ended up at the tribunal.
---
Religious discrimination?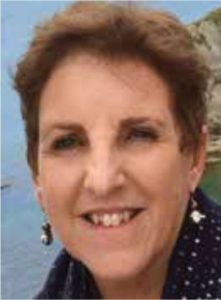 New enquiry needs evidence
Faced with mounting concern over the freedom of Christians to manifest and practise their faith in public, VfJUK (Voice for Justice UK) has launched CIDAC, a Commission of Inquiry into Discrimination Against Christians.
Rev Lynda Rose of VfJUK, who is also a barrister, says: "The twin freedoms of belief and of speech are enshrined in UK human rights and equality law (see, for example, Articles 9 and 10 of the European Convention on Human Rights, as enacted in the Human Rights Act 1998). Yet these freedoms are daily traduced by progressive, supposedly liberal, activists who dismiss Christian faith as outdated bigotry, a stance with which the so-called establishment often seems shamelessly to collude."
The Inquiry is scheduled to last two years, and will culminate in a report to be submitted to Parliament (see full report in HEART Aug/Sept 2023).
To submit a witness testimony, email office@cidac.org.uk
---
Europe's Christians are also fighting discrimination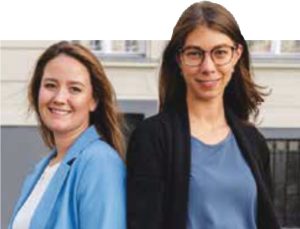 Just as Rev Lynda Rose of VfJUK has launched CIDAC (featured in HEART Aug/Sept 2023), its European counterpart, OIDAC Europe, is welcoming a new Executive Director.
OIDAC Europe (Observatory on Intolerance and Discrimination Against Christians in Europe) documents discrimination against Christians and new Executive Director Anja Hoffman says: "With the growing intolerance and discrimination against Christians in Europe, such as the increasing criminalisation of expressions of religious belief, I see our work in documenting and raising awareness about these developments as more important than ever."
---
Parents sue DfE over trans ideology in schools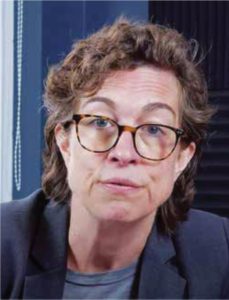 Parents whose children were allowed to change gender at school without their consent are suing the Department for Education.
Barrister Dr Anna Loutfi of the Bad Law Project is bringing the case, which would seek to define gender ideology in law.
She told GB News in August: "Advocacy groups are choosing their own pick-and-mix ideas of what children should or shouldn't know. There's no oversight. Parents are not invited to be part of the discussion."
Meanwhile, parents who took the Welsh Government to court over its "sexualised" curriculum were refused an appeal on 26 May 2023, after losing their judicial review in December 2022.
"Parents are not invited to be part of the discussion"
"The Welsh Government used European case law to argue that there's no such thing as parental rights," said Kim Isherwood, chairwoman of Public Child Protection Wales in a 3 September update. However, the Government lawyers had "failed to disprove all evidence put to the court".
Meanwhile a draft Parental Rights Bill, which would waive commercial restrictions preventing parents from viewing RSE materials, was published by the Society of Conservative Lawyers (SCL) in July 2023. It would also give parents "an individual right to sue a school which breaches its duties in respect of access to materials and political indoctrination".
The SCL paper cites the UK Supreme Court's statement in 2016: "The first thing that a totalitarian regime tries to do is to get the children, to distance them from the subversive, varied influences of our families, and indoctrinate them in their rulers' view of the world."