A CHRISTIAN mum suspected by Pakistani police of stealing from her former employer was forced to watch her adult son being beaten in an attempt to force a confession out of her – and his dead body was later dumped in front of her home.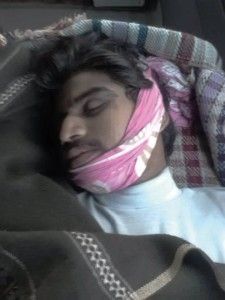 Zubair Masih, aged 20, screamed for police officers to stop when they laid into him as his horrified mother Ayesha Bibi was told the bloody violence would only stop if she confessed to the theft. It happened after Ayesha was arrested in Harbanspura near Lahore at 7pm on March 6.
She had been accused of stealing 35,000 rupees and gold ornaments weighing 100g when working as a domestic servant for landlord Abdul Jabbar  – a charge she denied. She had stopped her employment after a number of accusations from her employer.
Her son Zubair and his uncle Arshad were also arrested and then all three were beaten and tortured in a police car before being thrown into cells at a police station. Ayesha was released when no evidence was found but her son and brother kept as police tried to force a confession.
Wilson Chowdhry, Chairman of the British Pakistani Christian Association, said: "This poor mother's hurt is one that reverberates throughout Pakistan. Christian mothers lose their daughters to rape and forced Islamic marriage and too often lose their sons to malicious acts of violence.
"The value of a Christian in Pakistan is deemed no more than a postage stamp. Unless significant social reform takes place this ongoing hatred will lead to even more sorrow in a country bereft of love."
Chris Eyte