"God has given you a vision and he will fulfil his promises. He will bring the people, the finance and the place. Do not compromise the vision; instead focus upon the vision in its fullness and work backwards"
How one woman abandoned her career to create a special place for restoration and healing
Bethany Turner is one of the few who are seeing their life's dream come true.
Eight years ago the former mental health social ser vices worker bought a five-acre smallholding in the New Forest, where visitors can "heal and recover."
Project Manna supports adult volunteers with mental health and addiction issues, as well as partnering with a local charity to support lone parent families, who come for activity days.
But it did not emerge overnight.  Bethany admits that the journey has been "challenging and costly – and is by no means complete".
Dreams
Bethany had been a Christian when she was young, but veered off-course as a teenager, leading to "twelve years of hedonistic living".
By the age of 15, she had developed a deep desire to help people, and made her career in mental health services social work. During her 15 years in social work, ideas of helping people find restoration in an outdoor setting stayed with her, but she considered them merely pipe dreams, thinking it was simply an escape from work constraints.
However, after her life "started to fracture", she gradually found her way back to God. "Belatedly, I started seeking his will for my life and he began to show me that I had not manufactured the dreams, but these were his purposes for which he had created me."
Tears
Confirmation of the vision came during a conference, when a tearful lady asked to pray for her. She then shared words she felt God had placed on her heart: "God has given you a vision and he will fulfil his promises. He will bring the people, the finance and the place. Do not compromise the vision; instead focus upon the vision in its fullness and work backwards."
"The people we support have often been bruised by life, but gardening can stimulate a desire to nurture"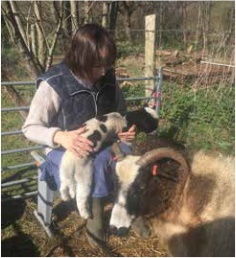 These words proved a great encouragement for the years of hard work that lay ahead. "Convincing my husband James, family and friends that this long-held dream was worth abandoning my career for; deferring having children; selling up and putting everything we had into a plot of land miles away from where we lived, was challenging," she remembers. "Sacrificing my professional identity was humbling. I felt great unease when giving lengthy answers to the question, 'What do you do?'
"My answers were fumbling, as if I needed an excuse for giving up a career. My certainty in God's purposes for my life sounded unrealistic and foolish to unbelievers when articulated."
Provision
Eventually Bethany and James were led to the right site, just outside the town of Fordingbridge, despite it being outside their chosen area and with no on-site building. And after a year in temporary accommodation, the couple moved into a "barely habitable" derelict house just a few miles away.
The first step was to erect fencing, but they lacked the finances. After fervent prayers for God's provision, the council gave them nearly enough fencing to surround their kitchen garden and within two weeks, family and friends had donated £1,200 for fence posts.
"This was just the beginning of God's faithfulness to provide," recalls Bethany. "Having no big funders keeps us relying on God for our daily needs. He inspires some generous people, and I have become a shameless Womble as we benefit from our throw-away society.
"Earlier this year I put out a request for unwanted tools. Within a couple of weeks we had such a windfall that we had to build a shed (from donated pallets) to accommodate them!
"On another occasion I pursued an advert for wood which had almost gone by the time I reached the address. However, after sharing our vision, we ended up being given plants, a shed, a greenhouse and a shelter for our sheep!"
As well as over 100 fruit trees, James and Bethany have chickens, bees and a flock of tame sheep. In 2020, a £3,417 grant from the National Garden Scheme enabled them to build raised garden beds for wheelchair users.
Answered prayer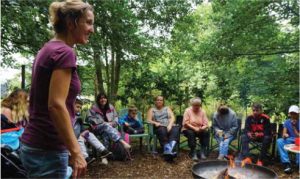 Bethany firmly believes in the power of prayer: "We pray together with those who want it, and seeing God answer prayers is a witness to those who don't know him."
One of their volunteers became homeless before Christmas and had no deposit to secure a room she had found to rent. They prayed for several weeks, but with no answer forthcoming, she had no option but to pull out. Then the landlord decided to waive the deposit! "This is just one of many wonderful scenarios that we have seen unfold as people dare to put their lives in God's hands."
Seeing God at work is a constant source of inspiration. "Relationships developed at Manna have a depth which enables people to open up, giving God the opportunity to bring healing."
Bethany told The Telegraph in February: "Our lives so often don't involve the natural world. There's such joy to be found in planting seeds and waiting with anticipation for signs of life. The people we support have often been bruised by life, but gardening can stimulate a desire to nurture."
Eternal perspective
A foundational verse to the project is 1 Samuel 2:8: "He raises the poor from the dust and lifts the beggar from the ash heap, to set them among princes and make them inherit the throne of glory."
Eight years into the project, Bethany says her full vision sometimes feels unattainable: "But I recognise God's timing is perfect; it is his work and he is at work in us. I recognise my propensity for being an achiever and fixer, as well as focusing on the end goal instead of what I am called to do today. Having this vision burning in my heart has shaped a more eternal perspective, and continues to challenge where I place my trust.
"These years have been costly, butwe are encouraged by lives changed as God uses Creation and relationships at Manna to bring hope and healing."