SUDANESE MUM-OF-TWO MERIAM says she would never have given up her Christian faith even though a court ordered her death by hanging when pregnant.
Meriam Yahya Ibrahim, aged 27, has spoken publicly for the first time following the Khartoum court's harsh verdict last May. At the time she faced flogging for adultery because she was married to Daniel Wani, a Catholic – and then execution for alleged apostasy although she had always been a Christian. Meriam's toddler son Daniel was kept in prison with her and she gave birth to a daughter Maya with her legs in chains.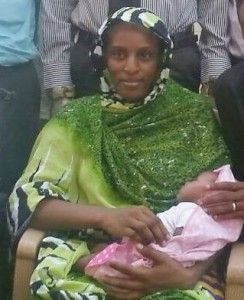 The family now lives in Manchester, New Hampshire, USA after they were allowed to leave Sudan following international outcry and a complicated legal wrangle.
Meriam said that she was put under intense pressure whilst in prison to convert to Islam especially from the Muslim Scholars Association.
She said: "These were imams that created an intervention by reciting parts of the Koran for me. But it's my right to follow the religion of my choice. I put my life at risk for the women of Sudan and for Christians who live under difficult circumstances, persecuted and treated harshly. There are many Meriams in Sudan and throughout the world."
Meriam, a medical doctor by profession, also said that she had refused a three day deadline handed by authorities in Khartoum to return to Islam.
She added: "I would never leave my faith. If you don't have your faith, then you are not alive."
Chris Eyte