A wheelchair-bound pro-life supporter is the first person in modern times to be arrested in the UK for praying in public.
Christian Hacking, from London, had his case dismissed – but only because of errors in police procedure.
Hacking was detained by police for praying outside a London abortion centre where Ealing Council has declared an 'exclusion zone' or PSPO (Public Spaces Protection Order) against protesters.
"I can't stand up – I'm in a wheelchair"
According to Faithwire, police ordered Hacking, who was sitting on the grass, to stand up so they could arrest him. He replied: "I can't stand up, I'm in a wheelchair."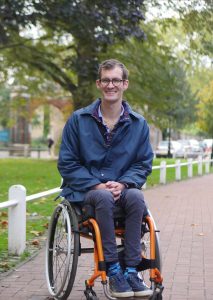 The disabled man was then carried into a police van near the Marie Stopes clinic. He was imprisoned for eight hours before being released on bail.
Hacking had refused to stop praying, so was detained because the PSPO ban prohibits "prayer or counselling". He works part-time for pro-life organisation Centre for Bio-Ethical Reform UK.
Hacking pleaded not guilty of failing to comply with the PSPO, but the case fell apart because the officers failed to caution Hacking before the arrest.
The Christian Legal Centre, which represented the pro-lifer, said: "What does it say about our society when peaceful compassion for life is treated by arrest and imprisonment?"
Hacking featured on the BBC's 'Today' and 'Sunday' radio programmes. He quoted Proverbs 24:11, "Deliver those who are drawn toward death, and hold back those stumbling to the slaughter", a verse that is followed by the warning that to plead ignorance of the slaughter is no excuse.
The campaigner also said, "I'd challenge how democratic our land is if there are patches where you can't pray to your God."
"I will continue to do what it takes until this silent genocide of innocent children ends"
Hacking commented: "I care deeply about all the families who attend abortion clinics and will continue to do what it takes, no matter what, until this silent genocide of innocent children ends."