Combatting isolation: conference visitors learned about and shared deaf people's needs
"Dear Church, can you hear me?" conference, Victoria Baptist Church, Eastbourne, 16 September
Why Christians need to learn sign language
Deaf and hearing impaired people are pulling out of church life due to frustration and loneliness because churches don't offer sign language or use microphones correctly.
This was highlighted by conference visitors who explained how people's reluctance to make provision for the deaf can lead to their withdrawing from church activities.
The event's two main speakers, the Church of England's national adviser on deaf ministry Rev Gill Behenna and deaf Baptist minister Rev Susan Myatt, both opened the event without speaking a word, instead using British Sign Language (BSL).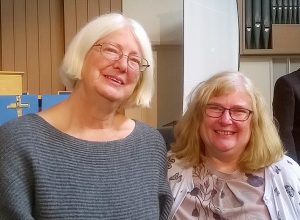 Most of the 30 attendees were deaf and interpreters were on hand for the rest. It was a rare occasion for Deaf BSL users (ie those who tend to identify with the deaf community, as opposed to the hearing community), the hearing impaired, lip readers and hearing people to come together and share deaf people's needs.
One strong message was the great need for Christians to learn sign language in order to understand and translate Christian concepts into BSL.  As BSL is a visual language, communicating effectively also requires visual resources like PowerPoint and drama.
Church leaders had their own workshop led by Rev David Farey, who involved someone with hearing loss to share his experiences.
Rev Simon James-Morse from Goldstone Church, Hove, which has a service for Deaf BSL users, emphasised the importance of deaf awareness training in churches.
The day ended with ambitious ideas to set up a Deaf Café in Eastbourne, establish practical training for church leaders and find people to act as champions for the deaf in their churches. A related website, hellochurch.co.uk, has also been set up.
Daphne Brett, one of the organisers, said: "We learned there is much to be done to enable Deaf BSL users and Christians with hearing impairments to play a full part in their local Christian community."
With thanks to Rev David Farey, Vicar of Hellingly and Upper Dicker Churches