Martin Smith and Jesus Culture finish off the weekend in dramatic style. Photo: Clive Price – http://cliveprice.com
WISTON HOUSE hosted its yearly Big Church Day Out this May bank holiday. The annual Christian music event, founded by Tim Jupp, a former member of Littlehampton based band "Delirious?", was set to welcome more visitors than ever this year and it did not disappoint.
The house, set in 6000 acres of glorious Sussex countryside, was invaded by thousands of Christian festival-goers for a weekend of top Christian music artists, including Martin Smith and Israel Houghton. Over 20,000 people – more than ever before – travelled to worship, play and picnic in the idyllic South Downs setting.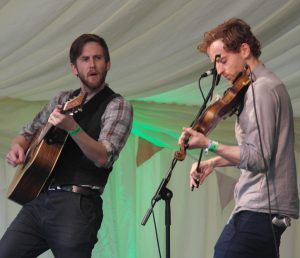 The weekend has often been used to promote the fantastic work of various Christian charities and this year was no different. Sponsors Tearfund managed to protect 4700 children from trafficking over the two days as part of their "No Child Taken" campaign.
Martha Collison, the youngest contestant on BBC programme "The Great British Bake Off" last year, took part in a cake decorating challenge on the main stage and stressed the importance of events like Big Church Day Out. Saturday evening saw Pete Greig, founder of 24/7 Prayer, preach briefly on the salvation God offers us after which non-Christians were encouraged to make a commitment.
There was fun for all the family with the classic Big Church Day Out children's fete. Manchester based "!Audacious Church" also ran a whole host of activities for kids throughout the weekend.
Away from the mayhem of the main arena and new to 2015, Wiston Church provided a more peaceful venue for worship. On Sunday afternoon married couple Michael and Lisa Gungor led an hour of singing and praise for those who preferred to reflect in quieter surroundings.
Also on Sunday, Grammy Award winning Switchfoot took to the main stage before popular alternative band Rend Collective performed a new song and tracks from their album "The Art of Celebration". Thousands crowded into the natural amphitheatre marked by the trademark Big Church Day Out flags as final act Jesus Culture, joined by Martin Smith, finished off the weekend.
Sam Finniear