Long hours and an "eye-opening" time with Street Pastors are all part of the Sussex Police and Crime Commissioner's job. Halfway through her term in office, she tells Sam Finniear of her huge respect for Christian charities – and of her days working from 7 till 10
IT'S TWO YEARS SINCE A SMALL PERCENTAGE OF SUSSEX VOTERS BROUGHT KATY BOURNE INTO THE NEWLY CREATED ROLE OF REPRESENTING SUSSEX POLICE
Since then she has been working closely with Christian charities manned by churchgoing volunteers, such as Arun Angels and Brighton Street Pastors. She even hinted that perhaps policing would benefit from a rise in the number of Christian volunteers, and told me: "I'm very supportive of Arun Angels and Street Pastors as well. I've been out with Street Pastors, just before Christmas. It was quite an eye-opener; I wrapped up warm and we gave out flip-flops and water. I haven't been out with Arun Angels yet but I am very aware of them and have helped them to get funding, I think. But yes, I'm hugely supportive and it's very clear that the work they do really is preventing crime.'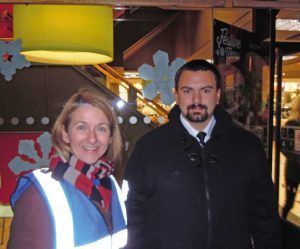 The new post, paying £85,000 pa (an MP earns £66,000), was created by the government to ensure that elected individuals are responsible for efficient policing, replacing the 17 county police authority members of which only nine were elected.
Mrs Bourne was the Con-servative candidate for Sussex, facing tough competition from well-known local Christian Ian Chisnall, the founder of Brighton Street Pastors and County Co-ordinator of Churches Together, standing as an Independent, and Labour's candidate Godfrey Daniel fighting the November 2012 election. It went to a second round between Mr Daniel and Mrs Bourne after neither received a majority vote and Ian Chisnall narrowly missed out on a place in the final round with 21% of the votes. Mrs Bourne eventually achieved her overall majority of 24,426 votes.
Before taking up her post, Mrs Bourne had been a successful businesswoman and sold her businesses to be the PCC. Although born in London, she told me she is "a Sussex girl born and bred" and had studied at Roedean. As a result she is in favour of single sex education: "Well, I was in an all-girls school and I think it's very nurturing for young women and it enables them to learn and have experiences without the worry of boys."
With her motto being "Safer in Sussex," Mrs Bourne mentioned various encouraging projects that she's currently involved with, including the "Restorative Arun: Giving Communities a Voice" scheme, that "will bring a victim and offender together," in order to collaboratively decide on the outcome for the perpetrator.
Mrs Bourne has a fairly punishing schedule herself. She lives in Haywards Heath with her banker husband, Kevin, and they have two sons, both over 20. Her time away from home travelling has a bearing on family life: "I try to keep two Saturdays of the month free and on Sundays we try to have time together."
"My boys are both big now," she concedes, "so it's normally my husband I have to keep happy," but concedes that it is, "not always easy." With Kevin a high-flyer for HSBC who works in Canary Wharf, they both find themselves away from home quite often.
Here's a day in the life of a Police and Crime Commissioner:
"I usually start at 7am in the office but once a week I go to one of the police stations across the county for an early morning briefing before they go out on patrol. But, the majority of time I'm behind my desk or travelling across Sussex to get somewhere. It takes about two and half hours to traverse the whole county. The diversity of the job means I have to travel a lot.
"I speak to a lot of the public and attend events but also deal with the Home Office and some government departments. So I work quite closely with the Secretary of State, the Home Secretary and various ministers as well as numerous councillors. I work with all the councils in Sussex, so that's the three top tier authorities and the 12 districts and boroughs, as well as the parishes.
"The other day I was at a children's project at Whitehawk [Whitehawk After School Project -WASP] and saw the fantastic work that they do with young people. Then, I went on somewhere else. So I finally arrived home last night at just before ten o'clock.
"I have long days and on top of that, I'll be out at public events on some Saturdays. Sundays I tend to set aside three hours for reading as there are a lot of consultations and papers that I have to look over. I also have to write up big plans on what certain schemes across Sussex are going to look like."
When asked whether she would consider fulfilling her dream of being an MP, which proved unsuccessful in her attempt a few years ago, Mrs Bourne was adamant that she was comfortable in the job and enjoying meeting such a range of people. "I wouldn't want to be an MP, not now. Ever since a young age, I was always interested in helping and the community and I prefer the breadth of this job."