REV STEPHEN BOWEN, vicar of St. John's Felbridge, retired at the end of December after 33 years as minister of the church. He has been by far the longest-serving minister at St, John's in its 146-year history, writes Gordon Wilkinson.
Churchwarden Andy Brown said: "The way Stephen has proclaimed the gospel has been a hallmark of his ministry at St. John's.  He has demonstrated a wonderful personal example among us of a life devoted to God and has shown a true Christian commitment in all that he has said and done."
Former minister of Turners Hill Free Church Paul Asterley, who worked with Mr Bowen for many years on the "Food for Thought" lunchtime meetings in East Grinstead, said: "Stephen has a profound grasp of the truth of the Bible which he conscientiously lives out on a daily basis."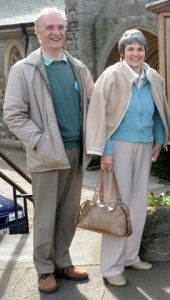 Reverend Stephen Bowen grew up in Teddington, Middlesex and attended the City of London School before going to Queens' College Cambridge.  He trained for the Church of England ministry in Bristol, and served in parishes in Chelsea, Guildford and Wallington before moving to Felbridge in 1979. Mr and Mrs Bowen have four children – Charis, Christopher, Jonathan and Nicholas.  The oldest two are married and there are now five grandchildren.