Despite UK street preachers frequently getting arrested for daring to state what the Bible says, Christians from ten churches gathered on 29 June to read the Bible publicly for the ninth annual Gloucester Bible Day.
A talk on Gloucester's Christian history revealed that it was as a direct result of Bible-believing Christians that we gained freedom from totalitarian government, peaceful reform of Parliament, education for all, the abolition of slavery, prison and factory reform, trade unions and free medical care within the NHS.
Then, following in the footsteps of Gloucester-born evangelist George Whitefield, we heard the Bible read aloud in the city centre.
This despite our stalwart team member Pastor David Braid having recently 'marched into glory'. Last year, at one of our outreaches, David walked with his stick behind a banner saying 'The Blood of Jesus Christ' – having driven from the Liverpool area to central London.
David Braid would stand outside the courts as prosecuted open air preachers emerged to face the cameras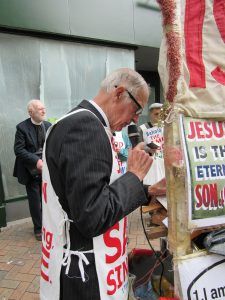 I can still picture this fearless soldier of Jesus, a military veteran who had served in Cyprus, in a smart navy jacket and military-style beret, confidently holding his small black Bible. He was never ashamed to proclaim the whole Word of God, and would stand outside the courts with his Bible message banner to encourage prosecuted open air preachers as they emerged to face the cameras.
That afternoon our group read out 12 chapters of the Bible and gave away 500 Gospel leaflets. Many useful conversations took place, with nine passers-by asking for a King James Bible to study for themselves.
Roland Parsons
Gloucester