800 Ethiopian Christians massacred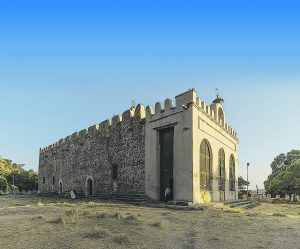 Around 800 Christians were killed in November in Ethiopia as they tried to protect the church where they believe the Ark of the Covenant still resides.
The bloodbath was so severe that it was reported in secular Western daily newspapers, including The Independent, The Times and the New York Post, and even tabloids like The Sun and The Daily Star.
The church of Our Lady Mary of Zion in Axum had become a refuge for Ethiopians in the Tigray region fleeing the country's civil war. It came under siege during clashes between rebel militia and government forces, but the massacre wasn't public knowledge until February due to a ban on journalists in the area.
The death toll was so high because local believers had heard the church was being attacked and had rushed to defend it.
Ethiopian Prime Minister Abiy Ahmed accused Tigray rebels of attacking Ethiopian soldiers. Tigray's militia called it self-defence. Neither side admitted the atrocity.
The bloodbath was so severe it was reported in Western newspapers
The UK press reported that looters were trying to steal the Ark, but a deacon of the church blamed government soldiers for the bloodbath. Eritrean forces have also been implicated.
Christian charity Release International reported that 171 Christian prisoners have been freed by Eritrea since August last year, but Eritrea has also been accused of attacking churches in Tigray – including Axum. Eritrea has denied involvement in Tigray, but reports say some troops in Axum were identified as Eritrean.
---
India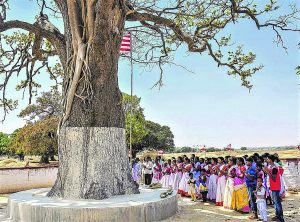 When a pastor in India refused to help fund the rituals for a tribal deity, animists at the village in Jharkhand beat him for more than an hour.
Pastor Lakshman Oraon told Morning Star News that he worshipped God throughout his ordeal and was released, but the Christians faced expulsion from their village. They contacted the police, whose only solution was to persuade the Christians to hand over the money and drop the charges if the village leaders would let the Christians stay.
---
Christian boy and girl released in Pakistan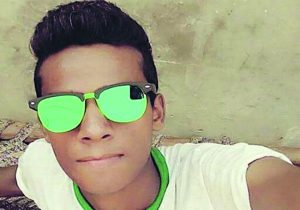 Pakistan courts have ordered the release of a man who was a teenager when arrested for alleged blasphemy, and of a 13-year-old girl tortured by a Muslim kidnapper.
The British Asian Christian Association reports that 20-year-old Nabeel Masih has been released on bail. He was just 16 when he was arrested after being accused of sharing and liking a blasphemous photo, and the youngest person to be charged with blasphemy.  Convicted in 2018, he was sentenced to ten years.
Until there is a ruling on his appeal, Nabeel's sentence has been suspended, but if he loses he will be incarcerated again. His attorney, Naseeb Anjum, said the boy was convicted even though there were no witnesses against him.
Meanwhile, a Faisalabad court has allowed Farah Shaheen to rejoin her family. At just 12 years old Farah had been abducted, tortured, forced to marry one of her kidnappers and chained in a cattle pen for five months.
About 1,000 Hindu and Christian females are kidnapped, forcibly married and converted to Islam every year
She was eventually rescued by police, but her release to her family only comes after police dropped charges against Khizar Hayat, the Muslim man accused of her kidnap.
A 2014 study by The Movement for Solidarity and Peace Pakistan estimated that about 1,000 Hindu and Christian females are kidnapped and forcibly married and converted to Islam every year.
Knife wounds suffered by Christians. The four men were scarred with Xs
---
More Nigerians killed by Muslims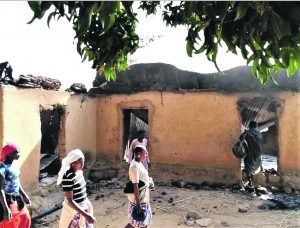 The murder of Christians by Muslim Fulani tribesmen continues, with 11 dying in the latest attacks in north-central Nigeria.
Four were shot dead on 14 February in Plateau state after seven others were killed earlier in the month in Kaduna state. The herdsmen burned several houses and food grains worth millions of naira, the Nigerian currency.
Christians would not retaliate because they are peace-loving
David Mali, spokesman for the Irigwe Development Association (IDA) in Plateau state, said: "Irigwe nation is our land, and no amount of evil force can compel us to relinquish it to those who hate us and our Christian faith. We are known for resilience, and so we shall remain till the end of age."He added that the Christians would not retaliate against the unprovoked attacks because they are peace-loving.
---
Christians forced to eat Bible in knife attack
Four Venezuelans were sliced with knives and forced to eat pages of the Bible in an attack on 16 February by eight hooded men.
The victims of the brutal assault at a drug rehabilitation centre were from a church in the city of Libertador in Mérida State. They had crosses slashed into their skin, as well as broken limbs and ribs. The attackers are believed to oppose the rehabilitation programme founded by a pastor and his wife.
"A narco-state violently opposed to the church's drug rehabilitation work"
Open Doors' Dr David Landrum says: "This premeditated attack has all the hallmarks of the local 'collectives' of the Maduro regime. This shows how Venezuela has become a dictatorial narco-state which is violently opposed to the drug rehabilitation work of the church."