The children on a Brighton estate have returned to a very different school after their summer holidays.
For Whitehawk Primary School was third bottom of over 7,000 of the OFSTED assessed schools and was put into 'special measures', after inspectors judged that it had not achieved acceptable standards.
But following an inspection in June, and after only 18 months in special measures, the regulator judged that the school was 'good across the board' with the report further concluding:
''This is a good school. The school looks after its pupils well. 'As a result, they feel safe and secure. Pupils benefit from a broad curriculum, including a variety of visits and out-of-school activities.''
The transformation of the school has been overseen by the Chair of the school's board of governors, church leader Stephen Dawson.
Stephen, who lives in Whitehawk, leads The Racecourse Church of Christ the King.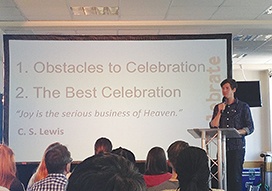 Nine years ago Stephen and his wife Emma made the decision to live and work in the community and to bring up their children and educate them at the then notorious local junior school.
Stephen speaks about his commitment to the community and to the church.
''I was brought up in Buckinghamshire and came to Brighton as a student.'' he says. ''I joined Church of Christ the King in New England Street with my wife to be, and became a youth worker. When we married we made a very conscious decision to live in Whitehawk and to commit to the community which would include sending our children to the local school.''
In speaking to the children he realised the youngsters seemed to have no aspirations, no hope or ambitions and had accepted their lives would not amount to much.
A selection of friends namely a doctor, an architect, a designer and other professionals were asked to visit the school to demonstrate what might be achieved.
''Whitehawk looks better and is a safer place to live than when we arrived. It has a very transient population but there is more sense of community now, "he explained.