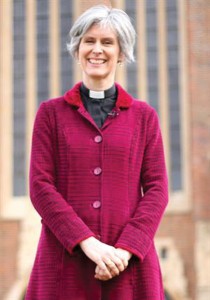 THE NEW BISHOP OF DORKING, the Rev Canon Dr Jo Bailey Wells, was ordained in the first wave of female priests in 1995. The appointment was announced in March and she is expected to take up her duties this August.
Currently she is Chaplain to the Archbishop of Canterbury. She has accompanied Archbishop Justin at such events as the re-burial of Richard III and the baptisms of Prince George and Princess Charlotte – as well as the recent gathering of Anglican Primates from across the world. Her responsibilities have included the founding of the Community of St Anselm at Lambeth Palace, a praying 'boot camp' for keen young people.
Journey of faith
Jo, 50, is married to Sam, who is vicar of St Martin-in-the-Fields, central London, and they have two children, Laurence, 13, and Stephanie, 12. Jo's interests include art, renovation and textiles. In her own journey of faith she owes much to sojourns in Uganda and South Sudan, most recently supporting the work of theological education across the Episcopal Church of South Sudan and Sudan.
She was ordained in 1995 in the first wave of female priests. Between 1995 and 2001 she served as Chaplain and then Dean of Clare College, Cambridge.
Energy and passion
Roles followed as Pastoral Tutor at Ridley Hall Cambridge, Director of the Anglican Episcopal House of Studies and Associate Professor of Bible and Ministry at Duke Divinity School in North Carolina. She is also Canon Theologian at Liverpool Cathedral.
Welcoming her appointment, the Bishop of Guildford, Andrew Watson, said: "I am excited about the energy and passion Jo will bring to the role, and am sure that the people of our diocese will afford her and Sam the same warmth of welcome that Beverly and I received just over a year ago. We can't wait to have her on board!"