A STORRINGTON JOURNALIST has been helping reporters defend democracy in Iraq.
Andrew Boyd, a freelance journalist who reports from the world's trouble spots and trains journalists, spent four days teaching the Iraqis how to cover their elections even-handedly.
"Even though Iraq is now free from Saddam's dictatorship, it is still one of the most dangerous places in the world to be a journalist," says Andrew. "Many reporters are killed there each year.
"We couldn't meet in Baghdad as the security risk was too high, so we did the training in Erbil, Kurdistan, which is safer."
Andrew, a member of Kingdom Faith Church, Horsham, was invited out by UNESCO to train 20 journalists. Due to the language barrier and cultural differences he says it was the hardest training he has ever done – but a privilege to help fellow journalists defend freedom.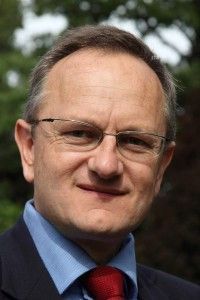 "Their freedom is limited, because they're in the middle of conflicting factions.  Iraqi society is divided along tribal lines, and between Sunnis and Shias who regard one another as heretics.
"One reporter there had been shot three times for reporting on militants bringing bombs in from Iran. Terrorists disguised as shepherds were strapping the bombs under their sheep to smuggle them across the border.
"When the militants realised they had failed to kill the reporter, they blew his house up. He had to ship his family out to another Middle Eastern country for their safety. These journalists are really paying a price for speaking the truth."
For Andrew the challenge was to encourage the Iraqis to report fairly and impartially in a country that remains in conflict. Through an interpreter, he tried to explain that journalists were 'watchdogs', defending public freedom and democracy. But one of the training team pointed out that 'watchdog' had been interpreted as 'mujahadin' – Islamic fighters.
Andrew was horrified: "I didn't want the journalists to think I was encouraging them to be extremists!"  After asking the translator to substitute the word for guard dog, he was surprised at the reaction from his audience. He was quietly told, "For Muslims, dogs are unclean. You are telling these journalists they should act like unclean animals!"
"It was a challenge," says Andrew, "for them as well as me. I'm sure I learned more from them than they did from my training."
The biggest misunderstanding occurred during an exercise to help the Iraqis think in a more detached way, Andrew asked them to write their personal views on a number of hot topics, including the death penalty and freedom of religion for all faiths: "I wanted them to recognise their own bias, so that they could deal more even-handedly with the bias of others."
One trainee misheard and became upset when he thought that Andrew was ridiculing their Islamic values. His colleagues soon corrected him. Andrew was moved by the man's feedback on the training. He said: "I have learned what it is to be forgiven by someone you have offended."
Of his short time in these intense conditions, Andrew reflects, "These journalists are doing a remarkable job under huge pressure. I count it a huge privilege to have stood with them."