Bicton College, Devon, 10-16 August
Galvanising the 'remnant' Church
Host pastor Ian Huxham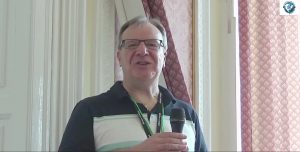 After the resounding success of last year's inaugural 'Redigging the Wells' Bible week, anticipation was high as Christians from around the country gathered for another week of 'meaty' Bible teaching in the glorious south Devon countryside.
Joyful, heartfelt worship preceded sessions from an impressive line-up of speakers on the theme, 'Who is on the Lord's side?'. A recurrent topic was the parallels between the unrestraint of the Israelites worshipping the golden calf and the state of the Church today, with Pastor Paul Sherbird exhorting us to stand for God's Word, the 'sword of truth', even at personal cost.
A "real belief that the Lord is coming" will mark out true believers
Host pastor Ian Huxham of Evangel Church, Sidmouth spoke about the current season of separation in the Church, noting that a "real belief that the Lord is coming" will mark out true believers from those who have fallen into apostasy. Pastor Peter Bond taught on the parable of the virgins and our need to experience God's divine life.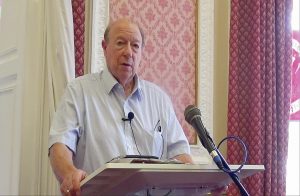 David Noakes, who taught on the 'wilderness experience' and discernment, warned of dark days ahead but encouraged us that God is preparing a Gideon-like 'remnant' who will withstand Satan's strategies. He shared a prophecy he had received in the 1970s: "I have a remnant people; what you're seeing now is only Ishmael."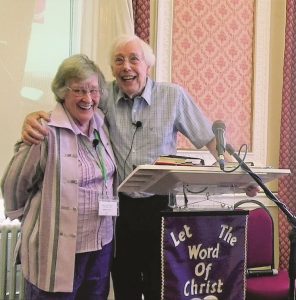 Dr Clifford Hill movingly recounted his efforts at the turn of the 1990s to warn the 'Kansas City Prophets' who were promising imminent revival without first emphasising repentance. He and his wife Monica led several sessions on the prophetic ministries of Jeremiah and Ezekiel.
On the state of the nation, he said, "We're facing the most incredible turbulence of our nation's history." He warned that a "catastrophe" could take place within weeks or months: "David Noakes and I have known since the 1980s that the only way of salvation for this nation is for it to go through a breaking."
"The hindrance to revival is inside the Church"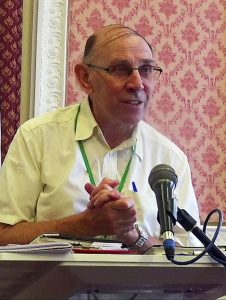 Declaring that "the hindrance to revival is inside the Church", Pastor John Angliss urged us to take up our biblical role as "kings and priests" in corporate intercession. He identified the four spiritual "principalities and powers" influencing the UK as secular humanism, anti-Semitism, homosexuality and Islam.
Prayer for Israel (PFI) director Derek Rous led the Israel prayer and focus day. Dr Keith Parker, speaking on the miracle of modern Israel, touched on the remarkable story of Lithuanian Jew Eliezer ben Yehuda (1858-1922) who devoted his life to reviving Hebrew as a spoken language.
As a younger believer, I was encouraged to meet more mature Christians who had experienced the purity of the Spirit moving during the charismatic renewal before counterfeits arose.
I came away edified spiritually, yet also deeply challenged about the need to hold fast to the pure Word of God as the end approaches.
Rachel Cary
'Redigging the Wells' was hosted by Christian Ministerial Fellowship International and the talks can be heard on YouTube via Genesis Christian Radio