Hindus attack Christmas celebrations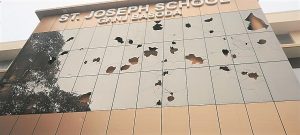 Hindu nationalists stopped many Christmas services in northern India through violence or intimidation.
Morning Star News report that in one attack on a house church service in Haryana state on 25 December, extremists beat up a 73-year-old pastor and seriously wounded his son. In Indri, Karnal District, villagers destroyed a church building on Christmas morning, forcing the congregation to celebrate in the open air.
In Ambala Cantonment on Boxing Day, a statue of Christ was smashed to pieces, and in Mussimbal village, Yamunanagar, Hindu nationalists disrupted a Christmas celebration, arguing with the pastor and chanting slogans.
In Madhya Pradesh, a Christian-run school was attacked by hundreds of Hindus who smashed glass, broke chairs and damaged vehicles while students were trying to take exams.
The mob was incited by false allegations against the school by extremists on social media.
Christian leaders say that in most cases the police did little to stop the attacks or arrest the perpetrators.
---
Bishop and politician face trial for 'Hate speech'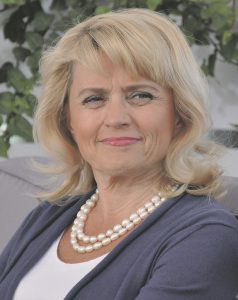 A Christian politician and bishop are standing trial for their biblical view of homosexuality. They are accused of violating the equality and dignity of LGBT people.
Päivi Räsänen, a member of the Finnish parliament, and an Evangelical Lutheran bishop, Juhana Pohjola, are both being prosecuted after the Evangelical Lutheran Mission Diocese of Finland published Räsänen's book, 'Male and Female He Created Them: Homosexual Relationships Challenge the Christian Concept of Humanity.'
Pohjola told Christianity Today that he believes in the "God-given dignity, value and human rights of those who identify themselves as homosexuals" but also believes that the Bible teaches that same sex acts are sinful.
Räsänen could be jailed for two years. She believes that if she is convicted, it would have dire consequences for evangelical Christians in Finland.
---
Christians tortured and beheaded
At least six Christians were brutally killed in Kenya's coastal Lamu region near Somalia in January. Al-Shabaab Muslim militants are suspected to be responsible.
International Christian Concern reports that seven houses were destroyed and four bodies burned beyond recognition inside. Outside, one person was shot dead and another decapitated. Five of the six people had their hands tied together.
Al-Shabaab have previously made attacks on both sides of the Somalia and Kenya border.
Somali Muslims also broke a pastor's leg in a separate attack in north-eastern Kenya on 3 December, beating him for leaving Islam.
---
Suicide bomber killed six people on Christmas day
A suicide bomber killed six people, including a small girl, and injured 14 others who were celebrating Christmas at a restaurant in the Democratic Republic of Congo (DRC).
The Islamist rebel group, Allied Democratic Forces (ADF) is suspected to be responsible for the attack, which happened on Christmas Day in the city of Beni in eastern DRC.
The ADF has attacked Christians before, and is fighting the DRC army in Nord Kivu and Ituri provinces.
---
UK hosts religious freedom summit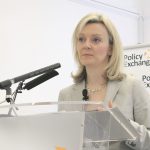 Foreign Secretary Liz Truss has announced that Britain will host a global summit on freedom of religion in London in July.
The conference aims to bring together international governments and faith leaders to promote freedom of religion and belief. Similar events have previously been held in the US and Poland.
The Foreign Secretary said: "I want all people, everywhere, to be free from discrimination and persecution regardless of their opinions and beliefs. We have used our G7 Presidency to defend and advance these fundamental freedoms and will build on that when we host friends and partners from across the world."
---
Mum and kids hanged for faith
A Christian mother and her children have been killed in central Uganda, allegedly by her Muslim husband.
Morning Star News reports that the husband, Hamidu Kasimbi, is suspected of hanging his wife and two children because she and the oldest child became Christians after attending a church.
A neighbour found the bodies of Shamira Nakato and her children, aged three and eight, in their
house in Bwetyaba village, Kayunga District, on 28 December.
A Muslim neighbour told Kasimbi that his wife was seen entering a church on two occasions over Christmas. The pastor of the church said that Kasimbi pulled her out of the church and beat his wife.
Later, locals heard screaming from the couple's house. Police are searching for the husband.
In eastern Uganda, Bishop Raymond Malinga Opio was attacked by Muslim extremists on 31 December after preaching in an evangelistic campaign which led four Muslims to Christ, including one who held a decree in sharia (Islamic law). The extremists beat Opio and threatened to kill him, but left the scene when local men heard Opio's cries for help.
In Eastern Uganda in December, new converts were driven from their homes and a Christian farmer's plantation was destroyed.
---
All missionary hostages freed
The gang responsible for kidnapping 17 North American missionaries in Haiti finally released all its remaining hostages in December.
Staff and children of the Ohio-based missionary group Christian Aid Ministries were captured on 16 October. Five were freed in earlier releases and the last 12 in mid-December.
A statement by Christian Aid Ministries said: "We glorify God for answered prayer… Join us in praising God that all 17 of our loved ones are now safe."
CBN News reported that the  gang had demanded $1 million for each person. According to Premier News, a ransom was paid but it was not known how much or by whom.