Don't worry about political turmoil –  Scripture says all will be well with Jesus
by Charles Gardner
With international attention on Israel as never before, nobody had been able to find a solution to the conflict. Except, it seems, a much vilified businessman who has failed in his bid for re-election as US President.
Mr Trump may look like a bad loser. What has this election been about, and why did it produce the kind of trouble and strife not seen since the aftermath of the American Civil War?
A battle of the ages is being waged that could well usher in the return of our Lord and Saviour
It's because so much is at stake. A battle of the ages is being waged that could well usher in the return of our Lord and Saviour. It is a classic conflict between good and evil, as Catholic  Archbishop Carlo Maria Vigano put it in his open letter to the President, in which he also warned of an emerging so-called "Great Reset" and "New World Order" justified by the Covid pandemic.1
Yes, Mr Trump has been humbled. The Bible says: "Pride goes before a fall" (Proverbs 16:18), and this is what has tripped him up. But there is more to it than meets the eye.
The bigger picture behind what the mainstream media paint becomes obvious once you interpret the political changes from a biblical point of view.
For centuries, Christians around the world have prayed for the peace of Jerusalem, as they are commanded in Scripture (Psalm 122:6)). All of a sudden the intractable Israeli-Palestinian debate takes on a whole new light as a succession of Arab countries begin normalising diplomatic relations with their former enemy.
Mr Trump has almost single-handedly changed the game
An unprecedented peace process has well and truly trumped the many pundits who were predicting mass protests and violence from the Palestinians. Mr Trump has almost single-handedly changed the game by taking the ball of contention out of the hands of the chief protagonists.
The United Arab Emirates, Bahrain and others are seeing the pragmatic sense of looking to their own interests rather than blindly pursuing a hostile policy that has yet to produce any lasting fruit.
Meanwhile other nations, though waiting to see which way the wind blows, are lining up to move their embassies to Jerusalem in recognising the city as Israel's ancient capital, following the bold lead taken by Mr Trump early on in his term.
The new Arab-Israeli deals are a part-fulfilment of Isaiah's prophecy of a highway of peace in the region (Isaiah 19:23-25) and a sneak preview, surely, of the time when the Prince of Peace, Jesus the Jewish Messiah, places his feet on the Mount of Olives and brings an end to war (Zechariah 14:4, Acts 1:11). Yet what deep divisions arise when such apocalyptic issues are at stake.
I'm not saying that Mr Trump is a saint. Yet Mr Trump has dared to oppose the mass slaughter of innocent, unborn babies, which doesn't seem to worry his opponents one iota. But if your focus is limited to domestic politics, you will not see the wood for the trees.
A clue to the bigger picture was the sight in Gaza of Palestinians burning images of Donald Trump alongside those of Lord Arthur Balfour2. Who? Exactly. He was the man behind the so-called Balfour Declaration of 1917. As British Foreign Secretary, he promised that his government would do all in its power to re-settle the dispersed Jewish people in their ancient land.
To the intense chagrin of Arab opponents, and left-wing politicians in general, this has been the focus of conflict ever since. This will continue (despite valiant peace efforts along the way) until Jesus returns, after an alliance of nations attacks Israel from the north and is soundly defeated at Armageddon (Ezekiel 38, Revelation 16).
One of the great ironies of all this is that, while most Israelis see Trump as a firm friend, most of America's five million Jews supported Biden3, following the tradition of Jewish Americans, who define themselves as liberals and identify with the Democrat party's economic and social values.
You could argue that their position reflects more concern for their own comfort than for their ultimate destiny in the land itself. For Biden was Vice-President to Barack Obama, perceived by many as the most anti-Israel President in US history.
Judging by the warring political tribes in America, peace still seems far off. But don't despair. Jesus has a word of encouragement for his followers when they see the world in turmoil.
Talking with his disciples about a time when nations would be "in anguish and perplexity" and "people will faint from terror, apprehensive of what is coming on the world," Jesus explained: "At that time, they will see the Son of Man coming in a cloud with power and great glory. When these things begin to take place, stand up and lift up your heads, because your redemption is drawing near." (Luke 21:25-28)
If you are not yet a Christian, it's not too late to put that right. Turn to him now. He will be there for you! He says: "Come to me, all you who are weary and burdened, and I will give you rest." (Matthew 11:28)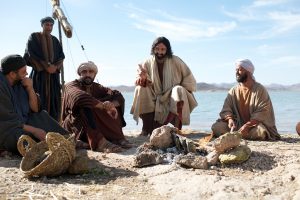 Talking with his disciples about a time when nations would be "in anguish and perplexity" and "people will faint from terror, apprehensive of what is coming on the world," Jesus explained: "At that time, they will see the Son of Man coming in a cloud with power and great glory. When these things begin to take place, stand up and lift up your heads, because your redemption is drawing near." (Luke 21:25-28)
If you are not yet a Christian, it's not too late to put that right. Turn to him now. He will be there for you! He says: "Come to me, all you who are weary and burdened, and I will give you rest." (Matthew 11:28)
Millions can attest to the truth of an old hymn based on this theme, which includes these lines: "I came to Jesus as I was, so weary, worn and sad, I found in him a resting place, and he has made me glad." (Horatius Bonar, 1808-1889
References
Posted on StopWorldControl.com – the Archbishop is the former Apostolic Nuncio to the USA
Israelis eagerly await final result, www.israeltoday.co.il, 4 November 2020
Poll taken by Pew Research Centre, World Israel News, 14  October 2020