Trumpet Call Prayer Day, International Convention Centre, Birmingham, 9 June
"The act of turning is the hinge that opens heaven's doors," said Ian Cole, founder of the World Prayer Centre in Birmingham, during a prayer day where about 1,500 Christians gathered to pray for a national turning in the UK.  The teaching and times of prayer called us to humble ourselves by confessing our fears, unbelief, sin and the wrong attitudes that stop God moving powerfully through us. After an invitation to "get low before God" in repentance, many people, including church leaders, came  to the front and knelt at the foot of a cross.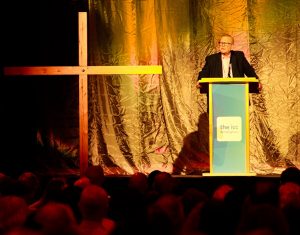 Christian writer and teacher RT Kendall, who pastored Westminster Chapel for 25 years, brought a powerful challenge to Christians to share the Gospel boldly, not watering it down.
Yinka Oyekan, pastor of The Gate church in Reading and leader of the evangelism initiative, The Turning, told us that over 1,850 people came to faith or rededicated their lives to Jesus in four weeks in Reading in 2016.  He also announced a mission in Scotland this August. "The goal is to equip every Christian in every major town and village over the next three years to share the Gospel of Jesus Christ and to disciple those who respond.
We are now working towards 2020 to see a national mission in England."
We heard how a recent survey carried out on behalf of the mission organisation HOPE Together UK, the Evangelical Alliance and the Church of England, revealed that 43 per cent of people in the UK believe Jesus rose from the dead and 67 per cent knew someone who was a Christian. Roy Crowne, HOPE's Executive Director, said: "We need to get churches to work together to see their communities transformed."
On a sobering note, Elim pastor Malcolm Duncan rightly told us not to underestimate the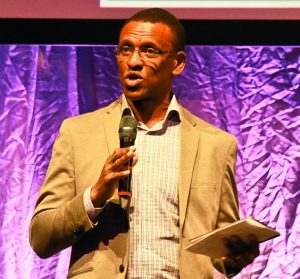 fact that the United Kingdom is in dire straits. "Our communities are not being served by a living Gospel… Our pulpits are full of men and women who would rather preach anything else other than the cross of Jesus Christ."
Pastor Duncan warned, "We can blow trumpets all day but if we are not a repentant, humble people, they won't make a difference."
Jennifer Nevill
Jennifer Nevill is a freelance journalist and produces a weekly news programme, Middle East Report (www.onlinemiddleeastreport.com), for internet Christian radio stations across the UK and Ireland