Easter offers us ALL a new way of living and lives are still being transformed supernaturally today through faith in the man who died and rose from the dead 2,000 years ago.
Read what happened to make these five people take the radical step of baptism by full immersion as a public declaration of their faith in Jesus.
Lives transformed by Jesus
The five people who have experienced a new peace and mental freedom in this article were among ten baptism candidates on 18 February at Kingdom Faith Church, Horsham, in West Sussex.
Friends and relatives came to witness the event and now the new believers will go on to be members of Kingdom Faith's Horsham, Crawley or Worthing congregations.
Testimonies are regularly given in churches all over Britain, so if YOUR church is seeing these things, please contact the HEART editor!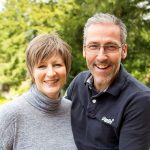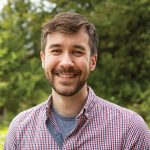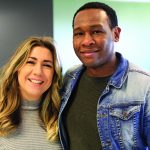 Witchcraft wasn't the answer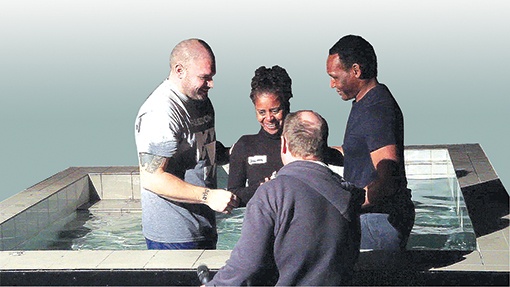 Before encountering Jesus, Brigitta Jaffar, 43, used to spend her money seeking fulfilment through witchcraft. She grew up in Mauritius, where most of her family were Catholics: "I knew God was real, but I didn't realise that I needed to actually follow God.
"I had curses spoken over me when I was a child, and went to witchdoctors trying to get free. But they said I had a spirit inside me and that I'd always be unlucky," she remembers. "They told me I'd never get married or conceive children."
In 2003 Brigitta left her textile factory job and moved to the UK with her sister. Having finally become disillusioned with witchcraft, in February she accepted her friend's invitation to Kingdom Faith Church. "Everyone was so friendly; people came up to exchange contact details with me and tell me I was welcome.
"I went forward when they called people to the front to invite Jesus into their life, and felt God's power touch me." She also received prayers of release from the curses on her life, and the very next week returned to church to be baptised.
Brigitta plans to attend Kingdom Faith's Crawley church led by Pastor Rohan Andrew as soon as her current cleaning shifts permit: "They preach the Word of God in this church. I used to think witchcraft was the answer but now I thank Jesus for showing me the right path and filling me with happiness!"
Free from past traumas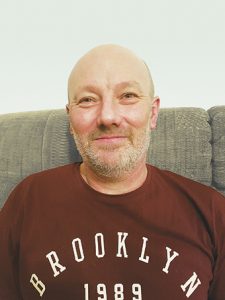 After suffering an abusive marriage and the death of his 8-year-old daughter in a riding accident, cycle technician John Cox, 48, was noncommittal when his friend Jenny invited him to church. "I'd only really experienced 'traditional' church for christenings, weddings and funerals," he says.
However, coming to Jenny's church in May 2017 was an eye-opener: "The worship style was different for one thing! But everyone was so friendly and the way the Bible was being preached made perfect sense to me. I started attending regularly."
On 5 November 2017, after having been given a Bible, John prayed with Kingdom Faith's founding pastor, Colin Urquhart, and gave his life to Jesus.
During one of the church's Encounter Evenings, God showed his presence to John in a powerful way. "Some of the team prayed and laid hands on me and I suddenly dropped to the floor like a stone with my heart racing. I felt like I was pinned to the floor, unable to move. It took me several hours to feel back to normal!"
Since then, John is totally free from bitterness about his past. "God removed the resentment inside me and I now have hope and a purpose for the future."
Former neo-Nazi now going to Israel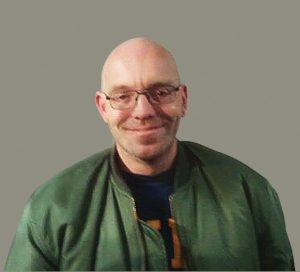 "Since I was 14, I'd always been looking for God," says Paul Hillier, 46. "I studied many different religions and tried lots of different churches on and off. I could quote the Bible, but it didn't mean anything to me."
In his late teens, Paul turned to drink and drugs to try to fill the void inside.
Then, aged 20, disillusioned with the political situation in the UK, he allied himself to the neo-Nazis, joining a far-right white supremacist party.
In the years that followed he held many different jobs, working in debt recovery, computing, and most recently sales management. Nearly three decades later, a college friend invited to him to church.
That October 2017, Paul remembers experiencing the power of God for the first time. "Despite the culture shock, everything just slotted into place; I knew Jesus was there."
When he attended an Encounter Evening in January he experienced being filled with the Holy Spirit and sensed God's prompting him to do something that would previously have been unthinkable: "I felt God clearly tell me to go to Israel, which no neo-Nazi would choose to do!"
"I was empty inside until I came here, but now I feel alive. I have no hatred or judgement for non-whites any more; I just see people as people. God has totally transformed my mindset."
"I tried to run away from Jesus"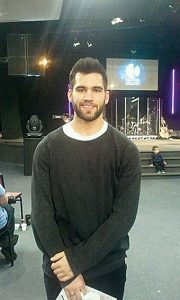 Joel Winterflood dropped out of Kingdom Faith Training College as a young student after just a couple of weeks in 2016, despite having attended the Horsham congregation since the age of two.
Crushing personal circumstances had made him feel worthless and hopeless, and he decided to "run away from Jesus."
By spring 2017 he had hit rock bottom: "I ended up in deep depression; I'd basically given up on life."
Thankfully Joel had a handful of close Christian friends who didn't give up on him. "They continuously spoke about God's love for me, which at first I simply didn't believe.
In the end I gave God one last chance. I said, 'It's now or never – I need you now or I'm done.'"
Joel remembers how God completely changed his heart: "Jesus freed me from my depression and anger and I realised the devil had been lying to me. I started to feel love for others and myself."
After this dramatic turnaround, Joel re-enrolled at
Bible college in autumn 2017. Still aged only 19, he says: "God brought me through the hardest times of my life. I now have the hope and peace I'd been craving for years."
Cured of mental illness
In 2007 severe depression forced Jonathan Mann, 31, to leave his Philosophy, Politics and Economics university course to be admitted to a psychiatric ward in Horsham.
"I was also struggling with anxiety, body dysmorphic disorder and OCD," he says. "They gave me medication, but that didn't help." After a year he moved into supported housing in Horsham and later into a council flat.
In 2012 Jonathan met a man from Kingdom Faith Church on the street. They discussed Jonathan's questions about origins: "I didn't understand how evolution and the Bible fitted together. I'd been a choir boy at the local Anglican church growing up, but left in my teens to go out partying. Although I had an experience that convinced me God was real when I was 14, I didn't realise I needed to give my life to him."
The man invited Jonathan to his Crawley congregation, where everything clicked into place. "Before then I'd never understood what the cross was for or what Jesus' resurrection proved. Finally I realised that Christianity was simpler than I'd thought: Adam brought sin into the world, and Jesus came to take it away."
Jonathan prayed to accept Jesus as his Lord and Saviour right away as some of the team laid hands on him.
Shortly afterwards, God revealed himself to Jonathan in his flat: "I'd opened my Bible to a random page in Daniel when I suddenly heard God's audible voice say, 'I love you'.
"Something twigged inside me and I received such a strong revelation that the Bible was true that I exclaimed aloud."
Jonathan, who currently works in a Horsham charity shop, has been part of the church ever since. "After I gave my life to Jesus, I've been completely cured of mental illness," he says. "I now feel normal!"
How to get miracles into print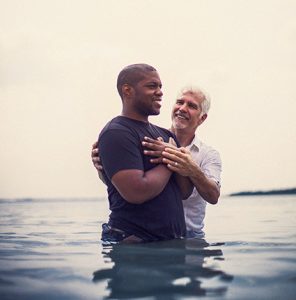 These reports were written up from a live recording of the event. So make sure your next baptism or testimony service is recorded and ask someone to transcribe it. Then get people's consent for their photos to be used and email the editor via the contact form on our website.