Leafy West Sussex may seem an unlikely place to find slaves, but a top government adviser explained that trafficked people can be all around us
St Mary's Church, Petworth was full for a talk on the dark subject of the Modern Day Slavery Act 2015 when James Ewins spoke to the local Churches Together (PACT) at the end of October.  Over 150 people arrived, some from as far as Brighton and Uckfield after seeing the advertisement in this paper.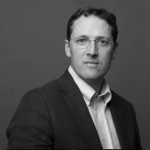 James, a barrister and top government adviser who helped draft this year's new law on human trafficking, gave his talk as we celebrate 200 years of William Wilberforce's success in abolishing the slave trade (his laws were passed in 1807 and 1833).
Like Wilberforce, James is an evangelical Christian who suddenly saw the horrors of modern day slavery in all its forms. He took a two-year sabbatical from the Bar and during that time went to work for the International Justice Mission in India in 2009-10.
Working with bonded labourers there, he discovered that there are more slaves today than in the previous 400 years before slavery was abolished. Through Micah 6:8 he realised that God encourages us to show mercy and justice to all.
Nowadays, he explained, slavery is more subtle and it could be in any form – young girls trafficked into brothels; domestic workers; homeless shelters which can breed victims; foreigners working in car washes and those working in our fields on £2 a day can all be slaves. By being more aware of likely slavery situations, we can be the ears and eyes in our community, because the conditions of the film '12 Years A Slave' are still prevalent today.
Thanks to the new law, from 1 November 2015, companies worth more than £36 million from 1 November are required to produce a report of transparency in their supply chain.
Encouraging signs are that at next year's Chelsea Flower Show there will be a modern slavery garden designed by Juliet Sargeant with the theme of locked doors. This has the potential of being seen by 50 million people.
We can also think, pray, learn, and find local charities who are helping in this area. There is a national helpline to call if you suspect someone has been trafficked – 0800 0121 700.
James has expert knowledge because he became Deputy Chair of the Centre for Social Justice working group which conceived and designed the Modern Day Slavery Act 2015. He was also a Specialist Adviser to the Joint Select Committee on the Modern Day Slavery Bill and he helped in drafting the wording of the Act.  He continues to advise the Government on issues related to modern slavery.  James has four children and is married to Tiffany-Alice who is an ordained Anglican minister working in Brixton, South London.
James's talk was well appreciated judging by the strength of applause and the questions asked.
Gerald Gresham Cooke
Co-Chairman PACT – Petworth Area Churches Together