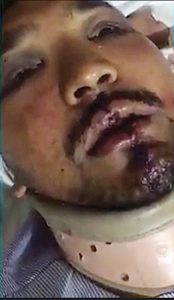 A Pakistani Christian says he had to leap out of a fourth floor window to avoid torture by police.
Sajid Masih, 24, suffered severe injuries but was recovering in hospital in Lahore.
In a video made from his hospital bed by his solicitor, Sajid claims he was beaten and then ordered to perform a sexual act on his cousin by police, so he jumped out of the window.
He and his cousin, Patras Masih, 17, were arrested for a Facebook post that allegedly insulted Mohammed, the founder of Islam.
The British Pakistani Christian Association (BPCA) reported that Sajid "was expected to pass away, but through the prayers of Christians across
the globe, he survived."
Sajid's statement has shocked Christians across Pakistan. The cousins believe someone else posted the offensive content when the teenage Patras's phone was stolen.
According to the BPCA, news of the blasphemy allegations triggered a huge mob to gather outside Patras's house: "Demonstrators brandishing petrol threatened to lynch him and to burn down the homes of Christians if they did not… hand over the frightened teenager to them or the police, so that he could be killed… Over 1,000 Christians… fled the neighbourhood terrified or are staying indoors for fear of reprisals."