It seems unthinkable, but these two joyful and successful young women could have been aborted on grounds of disability
Heidi, a hairdresser and pro-life campaigner, is one of the first post-lockdown brides
Pro-life campaigner Heidi Carter (neé Crowter), who has Down's syndrome and is challenging the UK's discriminatory abortion law, finally tied the knot in one of the first post-lockdown weddings.
Abortion law "makes me feel unloved and unwanted"
Heidi and new husband James, who also has Down's syndrome, had to scale back their wedding at Hillfields Church in Coventry from 220 to just 30 guests after restrictions were lifted.
It was love at first sight for James and Heidi when they met in 2017, but before the wedding on 4 July, they had not seen each other since March. Heidi, 25, described the separation as "really upsetting" and "like being in prison".
She told The Mirror: "It wasn't the wedding we planned, but it was the greatest day of my life.
"When I walked into the church, I was so emotional and excited. I nearly started crying because James looked so handsome in his suit. I had dreamed of that moment since I was born."
James, 26, told BBC 5 Live: "I married my best friend."
As well as being a junior stylist in a children's hair salon, Heidi campaigns for others to have the right to life.
In February, she launched a landmark case against the UK government over current abortion legislation that singles out babies with disabilities, allowing abortion right through to birth for conditions including Down's syndrome, cleft lip and club foot. She told the BBC's Victoria Derbyshire programme that the current law makes her feel "unloved and unwanted".
Her mother, Liz, told HEART that the case had been delayed by Covid-19 and was likely to take place later this year or early in 2021.
In June, before MPs passed a bill approving regulations that allow babies with non-fatal disabilities to be aborted up to birth in Northern Ireland, Heidi had presented an 18,000 signature petition to Downing Street opposing the move.
Heidi said that the law made her feel as if she'd be "better off dead."
She added: "I think it sends a really negative message. And in the words of a classic song, you are amazing just the way you are."
[divider] [/divider]
Ellie is Gucci's first Down's syndrome model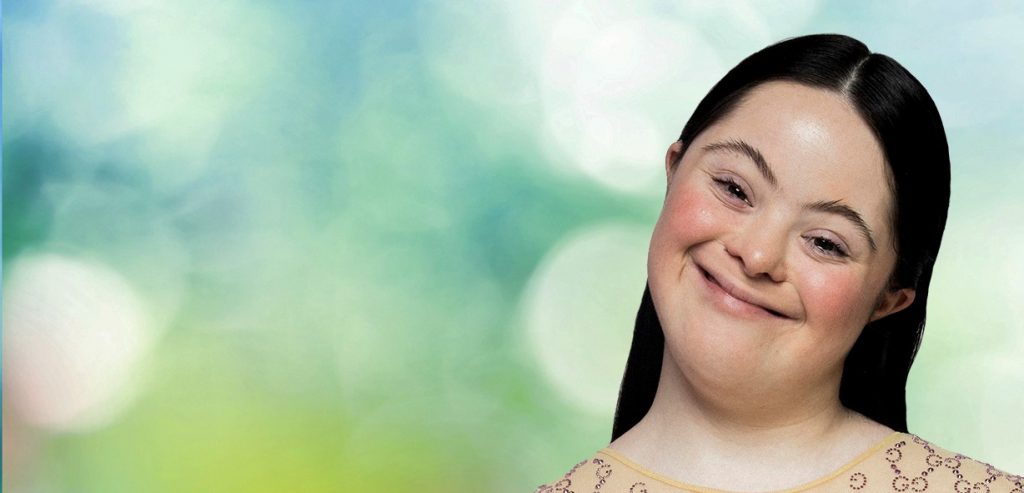 At 18, Ellie Goldstein from Ilford, Essex, hit the headlines after a photoshoot for exclusive brand Gucci.
Her picture on Gucci Beauty's Instagram account was the fashion label's most "liked" post ever.
Modelling Gucci's new mascara, Ellie said, "I'm really proud of the photoshoot and would love to be famous."
Ellie has already modelled for Nike and Vodafone and is represented by a specialist talent agency,  Zebedee Management, which promotes models with disabilities.
The doctor said, "she won't walk, talk or go to university!"
The teenage star's story is told on a Facebook page, "Positive about Down's syndrome", in which her mother, Yvonne Goldstein, explains the trauma around Ellie's birth in December 2001. After Ellie was born by caesarian, the nurses "were acting strange". Four hours later, a doctor held up the baby and said, "So this is Ellie – she has Down's, she won't walk, won't talk or go to university!"
Ellie proved them all wrong; she walked at 17 months and talked at three, then attended mainstream school up to year 10. Now the outgoing student is pursuing performing arts at college and hopes to model for other brands.