Witty and gripping adventures with the Holy Spirit

Shout it from the Housetops
By John Wright
The Branch Press
ISBN 978-0-9528865-1-8
If the very idea of speaking to the person next to you on the train about Jesus ties your stomach in knots, then this short book will show you that one-to-one evangelism needn't be daunting when you rely on the Holy Spirit.
As a seasoned evangelist, John Wright demonstrates that believers should expect the Holy Spirit to move as they share the Gospel – and be prepared for surprising results! For example, sometimes he receives supernatural prompts about a stranger's name or job, which helps pique their curiosity about spiritual things.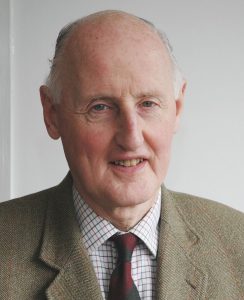 Canon J John's introduction encourages us to fight the "conspiracy of silence" gagging many Christians from sharing their faith, and the title of the book comes from Jesus' words in Matthew 10:27: "What you hear whispered… proclaim from the housetops."
Far from making you feel condemned about 'not doing enough' to share the Gospel, the book's many real-life stories of evangelistic conversations with strangers are so inspiring (and often funny) that Wright's infectious enthusiasm starts to rub off.
He will boldly talk about Jesus with almost anyone, from a Hindu doctor on the train, to someone looking for a space to park: "It was God who told me to give you the parking place. You are quite safe – I am from the Church of England."
To a saleslady on the phone he says: "I know someone who knows you. He said that you had stolen his heart. His name is Jesus…"
He describes being disappointed to find no queue at the station ticket office, and thus no "captive audience". Once he unsuccessfully attempted to speak to a pair of girls in a French clothes shop, only to realise that they were actually mannequins!
At the start of the book Wright gives practical conversation tips, such as always striking up a conversation immediately to avoid a "wall of silence" building up, and always being prepared with good Gospel literature: "A fisherman can't catch a fish without worms."
He points out that "every four minute miler was once… a baby who took the risk of standing up to run"; we may not all be "called to be evangelists, but we are all called to be witnesses".
Basically, "the only way to learn to be a witness is to do it", and this book will give you the practical tools to 'step out of the boat', trust the Holy Spirit and just give personal evangelism a go.
Rachel Cary