By Andrew Halloway
When a Cornish pastor reported threats to burn his church down, instead of trying to find the culprits, Devon and Cornwall Police told him not to offend the gay community.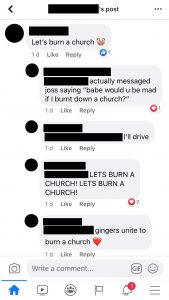 Pastor Josh Williamson of Newquay Baptist Church was vilified online by activists after he posted a Facebook entry welcoming the cancellation of a gay pride event.
Williamson met with organisers of the event to explain his views, but the abuse continued. Some threatened violence, including setting fire to his church – which often has families and children in it.
The police did not believe that the church would be attacked, and warned him not to post comments that may be considered a hate crime.
Andrea Williams of the Christian Legal Centre, which is supporting Williamson, said: "Police forces should show Christians they take this seriously by protecting their free speech against mob threats, rather than by seeking to keep Christians quiet."