Battle ensues over Balfour
Shocking anti-Semitism as Britain prepares to celebrate
By Charles Gardner
As British Christians prepare to celebrate a famous milestone in Jewish history, battle lines are being drawn up and some shots have already been fired in anger.
Passions are being stirred in response to plans for marking the centenary next year of the Balfour Declaration, through which the British government promised to do all in its power to facilitate the return to their ancient homeland of the Jewish people.
Lord Arthur Balfour was Foreign Secretary at the time, the government having over the previous century been influenced by a succession of anointed Christian leaders – such as William Wilberforce, Charles Spurgeon, Lord Shaftesbury and Bishop J C Ryle – along with the fledgling Zionist movement among the Jews themselves.
As it happened, Britain was perfectly positioned to fulfil the pledge she had made within weeks of this announcement when General Edmund Allenby and his forces marched into Jerusalem to end 400 years of Turkish rule over the region. It should not have taken another 31 years for the Jewish state to be re-born, but Balfour's extraordinary political act clearly paved the way.
However, the tide of world opinion has once more turned against God's chosen people. In 2017 we will also be marking the 70th anniversary of the United Nations vote recognising Israel, from which Britain shamefully abstained in 1948.
But now this same body, as UNESCO, has denied historic Jewish ties to Jerusalem and the Temple Mount, recognising them only as Muslim holy sites. Since Islam only emerged in the 7th century AD, and mountains of archaeological and biblical evidence point to Jewish existence there for thousands of years, how absurd is that?
Meanwhile Palestinian Authority leaders have – not for the first time – threatened to sue the British Government over Balfour! Perhaps this is what encouraged an outrageous meeting held in the House of Lords – called to launch a campaign to apologise for Balfour – in which Jews were blamed for the Holocaust and comparisons between Israel and Islamic terrorists were also reportedly made.1
Also in London, police were called to the University College after anti-Israel protesters stormed an event organised by pro-Israel advocacy groups. This prompted the Metropolitan Police to warn other pro-Israel organisations not to disclose the location of their conference.
But attempts by the UN and others to rewrite history will ultimately fail because God will have the last word. In Zechariah 12:3, the Bible warns that a day will come when the nations will attempt to wrestle Jerusalem from the Jewish people. But they will only 'injure' themselves.
Better to give up opposing Israel now than face the fury of the Lord when he comes in his glory round about the time this prophesied event occurs. (Read Zechariah 12-14)
Jesus, the Jew, is coming back to reign on earth. Make sure you are on his side!
1Arutz-7/Jerusalem News Network October 31 2016
Trump's capital 'offence'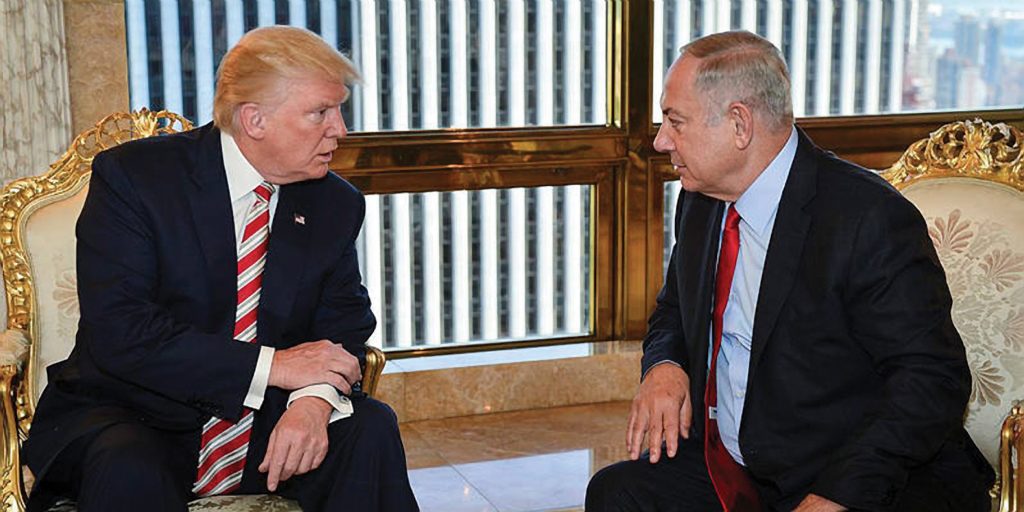 Donald Trump's resounding victory in the U.S. Presidential election is being greeted with cheers by most supporters of Israel. Mr Trump is a fierce critic of the Iran nuclear deal and has committed himself to move the American embassy from Tel Aviv to Jerusalem.  This would effectively recognise the divided city as the Jewish state's capital.
This will be easier said than done, however, because the disputed nature of Jerusalem's status is at the heart of the Israeli-Palestinian conflict, and such a move will undoubtedly provoke fresh furore in the region.
Realising that obvious Israeli support for Mr Trump could backfire, Prime Minister Netanyahu forbade pre-election comments from his officials. But we have heard from one Jewish source that American Jews had been quietly renewing their passports in case Hillary Clinton had won, as her running mate Tim Kaine and others in her team were believed to be anti-Israel. Tim Kaine, although a practising Catholic, was one of nine who walked out during Mr Netanyahu's 2015 address to Congress.
Britain stops funding terror
Terror victim Kay Wilson has convinced the British Government to stop the transfer of funds to the Palestinian Authority, claiming it is used to finance terrorism. Six years after she was stabbed 13 times with a machete while watching her friend Kristine Luken being hacked to death, the 52-year-old Israeli tour guide has managed to get over three million British citizens to sign a petition. "European and American taxpayers are funding the PA, which is rewarding killers in custody with monthly salaries," she said. Now, for the first time in decades, Parliament has suspended its annual transfer of £25 million to the PA.
JNN Nov 2 2016
Labour chief whipped
A parliamentary committee of inquiry has upheld claims that the Labour Party's leadership is failing to seriously confront anti-Semitism in its ranks. Labour chief Jeremy Corbyn's "lack of consistent leadership on this issue… has created what some have referred to as a 'safe place' for those with vile attitudes towards Jewish people," the unanimous report by eleven lawmakers declared. (JNN Oct 18 2016)
PA names school after murderer
The Palestinian Authority has named a school after Salah Khalaf, the head of the Black September terrorist organisation which carried out the kidnapping and murder of eleven Israeli athletes at the 1972 Munich Olympics. Defending the move, PA official Issam Abu Bakr said such action was part of the Palestinian Arab culture.
Meanwhile a prominent Palestinian woman brought up to hate the Jews is now an ardent defender of Israel after becoming a Christian in her adopted Canada. With most of her family calling for her blood, Sandra Solomon is prepared to die for the truth, she told Israel's Channel 2 News. (JNN, Israel Today)