Archangel Michael Church in Cairo – burned by militants and still unrepaired. Picture: Andrew Boyd / Release
by Andrew Boyd
Release International has gathered thousands of names to present a petition calling on Egypt to protect its declining Christian minority. Many Christians have fled the country in recent years to escape persecution and discrimination.
"A visit by Release in 2013 confirmed reports that scores of churches had been burned. Today, Christians in rural Egypt still face attacks, threats and kidnapping," says Paul Robinson of Release, which supports persecuted Christians around the world.
"Release recognises the widespread attacks have decreased and welcomes the improved security, but the plight of one man symbolises the need for continued reform in Egypt today – where Christians can be charged with blasphemy without justification and religious freedom is still curtailed in the courts. That man is Bishoy Boulos.'
Bishoy Boulos, who has previously featured on these pages, converted from Islam to Christianity. He was accused of blasphemy after trying to change his official religious status on his ID card from Muslim to Christian.
He was jailed, received death threats and had his home set on fire.
"That was under the old regime," says Paul Robinson. "Now the new regime has jailed him for reporting the persecution of Christians and has accused him of blasphemy.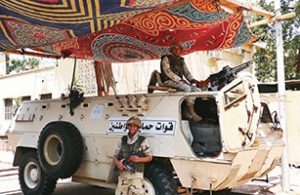 "Release's message to Egypt's president is this: 'President Al-Sisi, the world is looking forward to the new and better Egypt you have promised. To show the world Egypt is making that change, we urge you to set Bishoy Boulos free.
"Thousands of Christians have left Egypt – many of the brightest and the best, including church leaders. Unless both their freedom and safety can be guaranteed, the tragic exodus of Christians from Egypt is likely to continue."