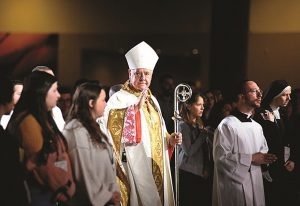 Coronavirus has forced the Vatican to postpone the launch of a global 're-education' plan in which "God 'withdraws' so that man can be free."
The chosen day for Pope Francis' 'Global Education Pact' launch, 14 May, is the anniversary of the founding of the modern state of Israel, but the Pope had chosen it last year to launch his "binding global contract".
He had invited "the great ones of the earth", which some have noted is a phrase occurring in Revelation 18:23, to a 'World Summit'.
Pope Francis had said, "We must co-operate on our common home to save the environment."
Archbishop Vincenzo Zani, the Vatican prelate tasked with organising the Global Education Pact, explained that the theological vision at the heart of Pope Francis' "new humanism" is one in which God "withdraws" so that man can be free.
This is one of a series of moves by Pope Francis to blur the lines between the religions and has led to Catholics launching a petition to ask the Vatican to affirm that all salvation comes through Jesus.
Meanwhile, a group of prominent Catholic clergy, including German Cardinal Gerhard Muller, former head of the Vatican's doctrinal congregation, was criticised for warning in a letter of attempts to use the Covid-19 pandemic to create a 'world government beyond all control'.
Among those signing were; Archbishop Carlo Maria Vigano, former US nuncio to the United States; and Cardinal Joseph Zen Ze-kiun, retired bishop of Hong Kong.