A petition to keep a Christian-owned chicken restaurant open has been signed by over 30,000 people.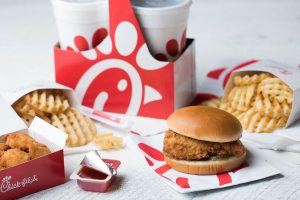 Chick-fil-A is the third biggest restaurant chain in the USA, behind Starbucks and McDonald's. Its first British outlet, in Reading, has had its lease terminated after LGBT protesters demonstrated outside.
LGBT campaigners have also launched a petition against a second branch being opened in Scotland.
The US-based company has stood up for biblical values in America. Bosses of the chain have donated to Christian charities opposing LGBT ideologies.
The company told the BBC: "Our giving has always focused on youth and education. We have never donated with the purpose of supporting a social or political agenda.
"Chick-fil-A do not discriminate against any of their customers"
"There are 145,000 people – black, white; gay, straight; Christian, non-Christian – who represent Chick-fil-A."
The international Christian campaign organisation CitizenGo opened an online petition defending Chick-fil-A on 22 October. It says: "This is an attack on religious freedom. Chick-fil-A are not in breach of any UK employment laws and do not discriminate against any of their customers, therefore, there is no good reason why this popular restaurant cannot be allowed to remain open."
By mid-November, over 33,000 had signed the petition.
The company's corporate purpose is: "To glorify God by being a faithful steward of all that is entrusted to us". Its website states that it is open Monday to Saturday because its founder, Truett Cathy, "saw the importance of closing on Sundays so that he and his employees could set aside one day to rest and worship if they choose".