Hong Kong anti-extradition law protest on 16 June 
WHILE the British media have rightly highlighted the pro-democracy protests in Hong Kong this summer, they have been peculiarly quiet about the faith at the heart of the demonstrations.
Yet such is the involvement of Christian leaders and ordinary believers in the protests that the unofficial anthem of the movement is the hymn, 'Sing Hallelujah to the Lord'.
Christians have been able to process through the streets singing without being stopped by Hong Kong's police because religious gatherings are not as tightly regulated as political ones.
An extradition bill that would send criminal suspects to China for prosecution sparked off the latest demonstrations. It's the latest in a series of attempts to undermine Hong Kong's freedoms, which were first widely reported in 2014. In April, a Baptist pastor, Chu Yiu Ming, was among nine activists convicted for participating in the long-running student protests, originally dubbed the Umbrella Movement.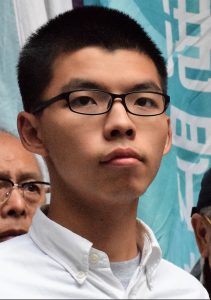 Three of the leaders of the Umbrella Movement are Christians, including the face of the movement, Joshua Wong.
The 22-year-old, who has served prison sentences for his protests, told World Magazine: "As Christians, we are not only responsible for preaching the Gospel and then waiting to go to heaven when we die. We need to be bringing heaven down to earth.
Prayer groups, crosses and protesters reading Bibles were common sights
"That seems like a totally idealistic dream, but if we want that dream to come true, how should we let people know that as Christians we don't focus only on trying to increase our salaries and better our careers? We ask, how can we do more for the people around us?"
Prayer groups, crosses and protesters reading Bibles in the street were common sights among the crowds. Even the liberal-leaning New York Times noted that Christians were at the heart of the protests, yet that fact was given very little coverage in British national news programmes.
One protestor, armed with a Bible, a guitar and a drawing of Jesus walking on water, was interviewed by the New York Times. She said: "I am very certain that Jesus would not have stayed home enjoying the air-conditioning. He would have been out here helping people and marching."
The newspaper commented: "Though Catholics and Protestants make up only about one in nine people in this city of 7.5 million, the influence of Christianity in the protests has been striking, providing a source of inspiration and solace."
While Chinese state media broke its media silence to show its people the storming of Hong Kong's parliament, the violence to property alarmed many in the protest movement. They said that the actions of a few hundred could undermine the peaceful behaviour of millions. Old people also marched to show solidarity with the young on 18 July.