In one of the largest Christian gatherings in the world, three million Brazilians marched for Jesus in São Paulo.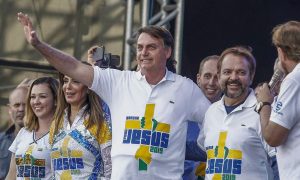 Joining them was President Bolsonaro – his first time at the march as president (he attended in 2018 as a presidential candidate).
The March for Jesus has taken place in São Paulo for 27 years, and is the largest in South America.
Estevam Hernandes, President of March for Jesus in Brazil, said: "We cry out for Brazil, for the families, for the end of corruption, for the afflicted hearts… our country belongs to Jesus Christ. To him all honour, glory, power and majesty. As it says in Psalm 33: 'Happy is the nation whose God is the Lord.'"
Bolsonaro encouraged the marchers this June: "You were decisive in helping change the destiny of Brazil. It is very good to be among friends. And even better when they are friends with God in their hearts."
Brazil may be "secular but its current leader is Christian," Bolsonaro continued, saying that he wants to defeat the "ethical and moral" problems in Brazil with the help of churches.