The latest public figures who have fallen prey to 'cancel culture'
Children's author vilified
Same-sex parents, a single dad, a boy in a wheelchair, a boy in fairy godmother fancy dress, a little girl who dresses like a boy (remember tomboys?), different ethnicities – could this book possibly be more diverse and inclusive?
Sadly, yes. Special needs teacher and author Rachel Rooney was mercilessly trolled after her book, 'My Body is Me!', was published last December. Bullying attacks led to her announcing in June that she was withdrawing from public life as an author for the sake of her mental health.
One accusation aimed at Rachel, 58, who has worked in a professional capacity with children for three decades and has three children of her own, was that she was "unfit to be near children".
The reason? Her book celebrates children's bodies just as they are. Rachel told HEART, "Existing picture books were telling children, 'Your body is wrong.' I wanted to do a jaunty, fun, rhyming book which smashed sex stereotypes."
She says, "Wanting to be a boy (if you're a girl – or vice versa) is a natural phase. We're ignoring the psychological factors when we just encourage children to change their gender – it's the lazy way out and the cruellest thing you can do to a child."
"Propaganda"
Activists attacked the book online, with one comparing it to "terrorist propaganda" and labelling its publisher, Transgender Trend, a "hate group". In fact Transgender Trend is a parents' group which claims to abide by World Health Organisation guidelines that suggest a "watchful waiting" approach to children newly identifying as trans.
Rachel received "an awful lot" of private messages of support from other teachers and authors, who were afraid to speak out because they thought they would be sacked from teaching or not be published again.
Denounced
Rachel Rooney is not the only children's author to be denounced by "trans" activists. On 6 June, JK Rowling objected to an article's reference to "people who menstruate" rather than using the word "women", provoking a storm of tweets branding her "transphobic".
Defending herself in a subsequent essay, the author of the bestselling witchcraft-based 'Harry Potter' series revealed that she had survived domestic abuse and sexual assault. She said she was writing in solidarity with women "who've been slurred as bigots for having concerns around single-sex spaces".
She also signed 'A Letter on Justice and Open Debate' with over 150 other authors, academics and thinkers, published on 7 July in Harper's magazine that warned of "a new set of moral values" being embraced which weakened "our norms of open debate and toleration of differences in favour of ideological conformity".
Other signatories included Salman Rushdie, Margaret Atwood, feminist Gloria Steinem and humanist academic Steven Pinker.
Fury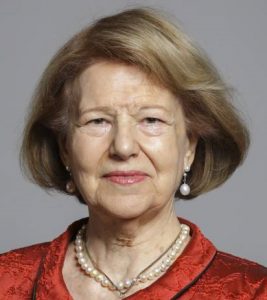 Another public figure to face fury in the 'Twittersphere' is Baroness Emma Nicholson, who accidentally 'misgendered' British transgender model Munroe Bergdorf and called her a "weird creature" (quoting a Shakespeare sonnet).
The Tory peer, who has been profoundly deaf since birth and has impaired sight, insists that she typed "Mr" by mistake. She apologised "unreservedly" and invited Ms Bergdorf to tea at the House of Lords, an offer which has been "provisionally accepted".
Yet Lady Nicholson was summarily dismissed from her honorary post as vice president of the Booker Prize, the coveted literary award which her late husband Sir Michael Caine had helped to establish.
NHS now warns parents
The NHS has quietly changed its guidance on children with gender dysphoria. Its website had previously stated that puberty blockers "are considered to be fully reversible"; now it clarifies that it is not known whether blockers affect the teenage brain or children's bones, and that "little is known" about their long-term side effects.
'Sexual fluidity' counselling under fire
Facebook has followed Instagram in banning content offering prayer and counselling for individuals with unwanted same-sex attraction or gender confusion.
Labelling ex-gay material "hate speech", the social media giant has taken down pages relating to so-called "conversion therapy" including those of Christian prayer and support groups.
One of the first victims was UK Christian charity Core Issues Trust (CIT), run by ex-gay Dr Mike Davidson.
Now PayPal and Mailchimp have shut down CIT's accounts, then, after pressure from Twitter users, Barclays Bank is closing CIT's accounts in mid-September. Recently Amazon World Service gave CIT just 24 hours to revise its website.
CEO Dr Davidson has also faced the full force of opposition through libellous postings made on Wikipedia, which cannot be easily changed. Public attack included Piers Morgan calling him an "old bigot" during a Good Morning Britain TV interview.
The UK government promised to ban "conversion therapy" two years ago, and the equalities minister is currently considering "all options for ending the practice".
In an interview with Christian Today, Dr Davidson rejected the "pejorative" term "gay conversion therapy": "[It is] definitely a political ploy… and is defined by things like electroshock therapy, frontal lobotomies, forced castrations and 'corrective' rape – none of which have been practised by any ministry that we would know."
Dr Davidson's approach follows the acronym 'SAFE-T' – Sexual Attraction Fluidity Exploration in Therapy, "standard counselling practice that is… an exploration of sexual fluidity."
Speaking to ITV News, Dr Davidson also explained that he cannot help anyone who is being coerced to come for therapy. "That person is not somebody who I would be able to work with ethically, because they're here under sufferance." He explained: "They have to know what they want in life and what their goals are."
He is concerned that banning counsellors and therapists like him is just the start: "If it's us now, it will be the pastors next. Many pastors have very little nuanced understanding of the issue. They don't realise this is the first step in silencing their pulpits."