Further shameful acts exposed as Prince makes historic visit to Israel
As evidence has come to light of further shameful acts of anti-Semitism carried out by British officials during its charge over the territory formerly known as Palestine, it is hoped that the royal visit to Israel will have helped heal the wounds of those who suffered.
I reported in Mayon a special ceremony held near Haifa at which UK representatives shared a 'declaration of sorrow' for the way our country treated Jews in the years leading up to the rebirth of their nation in 1948.
A more detailed report of that 11 May event has since come into my possession1, and I am thus able to exclusively reveal some shocking facts shared by Holocaust survivors and others attending the ceremony, organised by Love Never Fails, an alliance of Christian groups supporting the Jewish state.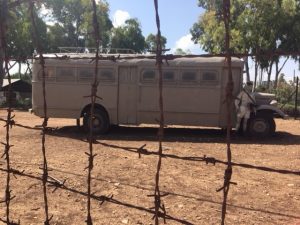 It took place at Atlit, a former detention camp where Jewish refugees were held as part of British policy to limit immigration to the region, adding further trauma to a people who had already suffered terribly under the Nazis.
Granted a League of Nations mandate to prepare a safe homeland for Jews, Britain instead interred them behind barbed wire complete with watchtowers.
Among those who shared their harrowing stories of the time were Hannah Avrutsky. A survivor of the notorious Warsaw ghetto2, she was hidden in a monastery before being smuggled to the Exodus ship bound for Israel in 1947, only to face a British naval blockade and be sent back to a Displaced Persons' camp in Germany, where so many of her people had been murdered!
Ben Zion Drutin spoke of being hospitalised after being wounded by the British on board the Exodus and then held in Atlit for six months.
Arie Itamar, who was eight years old on the Exodus, compared Israel to a "betrayed lover" during the Mandate.
Pinchas Kahane spoke of his parents' escape from Auschwitz, his birth in a Cyprus detention camp and how Britain prevented them leaving the camps until February 1949, well after the establishment of the State of Israel.
Dr Miri Nehari, whose father had been a leader in mobilising the escape of Jews from Europe after the Holocaust, read out a British telegram to the Polish government-in-exile asking them to close the borders to escaping Jews.
Zehavit Blumenfeld, whose 70th birthday has coincided with that of Israel's, said: "I do not forget, but I forgive."
She was born in the Cyprus detention camps where 53,000 Jewish refugees from the Holocaust were interned by the British.
She and others were moved by the warmth and sympathy of the Christians who came to express their sorrow, and hoped that Prince William's visit will be an important step towards reconciliation.
The testimonies concluded with stories of British collusion with Arab terror during the Mandate. Noam Arnon, representing the Hebron Jewish Community, spoke on behalf of those who had survived the 1929 massacre there, outlining British complicity.
Zehava Fuchs witnessed the Hadassah convoy massacre as a girl in 1948 when the British had deliberately not intervened to rescue Jewish passengers – 78 people, mainly doctors and nurses, were killed in the attack by Arab terrorists. Zehava is still unable to attend a barbeque as it reminds her of the smell of burning flesh.
Rachel Rust, daughter of a former British officer who served in Palestine, confessed her deep sorrow at the cruel treatment handed out by the British army.
On a positive note, Rita Offenbach shared how her mother was among 180 Jewish fighters rescued after being besieged by Arabs attacking their convoy. Another paid tribute to British officer Orde Wingate who is still much loved in Israel for having laid the foundations of the Israeli Defence Force in creating special night squads.
The declaration of sorrow read, in part: "We grieve that (Britain's policies) led to the deaths of hundreds of thousands of Jews who could have escaped Hitler's 'final solution' if the gates to their ancient homeland had been fully open."
Film maker Hugh Kitson 3 expressed sorrow not only for the failures of the Mandate, but also for the fact that today's British government fails to recognise Israeli sovereignty over their own capital city.
Many Israelis are still waiting to hear an apology from Britain for her betrayal of Israel in breaking a pledge to prepare a safe refuge for the Jewish people. Israel came into being without our help in the end, but not before many lives were unnecessarily lost due to the delay. There is still a need for much repentance and reconciliation.
Prince William recently made a first-ever official visit to Israel by a British Royal during which he paid his respects at the tomb of his great-grandmother, Princess Alice of Greece, who hid a Jewish family from the Nazis during the war. It is hoped that the visit will mark a turning point in Britain's relationship with Israel.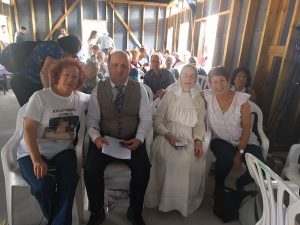 It is certainly encouraging that, according to a senior Conservative source, British Home Secretary Sajid Javid will take steps later this year to fully ban Hezbollah, one of Israel's most implacable enemies. Since banning the terrorist group in 2008, Britain has continued to recognise its political wing – a distinction not even accepted by Hezbollah, a heavily armed proxy of Iran which has held successive London rallies against the Jewish state4.
Also encouraging is former Foreign Secretary Boris Johnson's condemnation of the United Nations Human Rights Council over its long-standing anti-Israel bias, demanding the council drop a controversial agenda item placing Israel under intense scrutiny5.
These are indeed steps in the right direction, and we trust and pray that the Duke of Cambridge will have helped bring peace to the region where he walked in the footsteps of Jesus, the Prince of Peace.
Notes
1 My thanks to Rosie Ross, Israel's Love Never Fails representative, for the Atlit report, and to her colleague Anne Heelis for passing it on to me. Further signatures to the declaration can still be made at www.nachamuami.com
2 Where Jews were herded into a cramped, unsanitary location as a staging post for being transported to  death camps
3 Hugh Kitson's latest documentary Whose Land? explores Israel's historic and legal rights to their land
4 Jerusalem News Network, 18 June 2018, quoting the Jewish Chronicle