Burnout and breakdown force pastor to find sabbath rest
Take the Day Off
By Robert Morris
FaithWords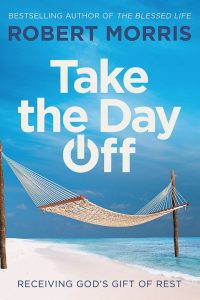 The issue of the Sabbath is being re-visited by an increasing number of writers and authors, which I find most encouraging.
And Robert Morris does a splendid job with 'Take the Day Off', a seemingly bland title for so great and important a subject. I first picked up the book during a much-needed break in beautiful Northumberland, my wife Linda having packed it for her holiday read!
Pastor of a large church in Texas, Morris was forced by his own experience of burnout and breakdown to face the fact that rest and recuperation is a vital necessity for our lives.
The sabbath is of course one of the Ten Commandments (the fourth, in fact), and the author rightly asks why we gentiles ever thought it was the one commandment we could dispense with, especially as it was actually designed for our benefit – to keep us healthy, alert, wise, clear-thinking and relaxed, so we can better serve our Lord and our neighbours.
Designed to keep us healthy, alert, wise, clear-thinking and relaxed
And it's not just about us, for if we have not properly rested from our labours, we will be tired, weary and grumpy, and in no fit state to be the shining light that draws others to Jesus.
The Hebrew word 'shabbat' actually means to cease, or stop. After six days, the Creator ceased from his works, and God is asking us to do the same, because it's the best way to live. It's how he designed us.
Morris suggests in no uncertain terms that a sabbath rest (not necessarily on any particu- lar day) is foundational to discipleship.
This is an outstanding book, challenging the status quo in Christian circles which discards the sabbath as being legalistic, and he underpins his message with a very clear exposition of the essential place of rest in our lives.
He had skipped a day of rest for an entire year
The idea of working 24/7 suggests that it all depends on us, whereas taking a day off to honour God is a step of faith, and demonstrates our trust in the supernatural provision promised to those who walk in obedience to him.
The book was published just before the pandemic in October 2019, which would have made it even more appropriate with many forced to take a rest from work. It is littered with perfect illustrations to back up his point, starting with his own experience. Forced to take a sabbatical following his breakdown, he discovered that he was not fully recovered after six weeks, so took extra time as part of his annual leave. It worked out to a total of 52 days and, on looking back, he realised to his astonishment that he had skipped a day of rest for an entire year – and thus effectively owed himself 52 Sabbaths!
I also loved his illustration of the entrepreneur who helped to finally defeat Germany in World War II by building hundreds of boats (with which to cross the Rhine with troops and armaments) in a matter of weeks while still insisting his factory close as usual for each Sabbath.
Other manufacturers also contracted by the US government to meet the need failed to deliver anything like as much despite working seven days a week. The God-fearing boat company in fact delivered ahead of schedule.
Taking a rest is comparable to salvation itself, the author poses, because it is about trusting in something only God can do, which is to find rest for your souls. That is why the Hebrew believers were urged not to make the same mistake as their forefathers by failing, through unbelief, to enter the sabbath rest of the Promised Land. It's not law, but life.
So take some time off, and learn how to take a real God-given rest!