Now a distinguished General condemns the government's inaction over the Middle East genocide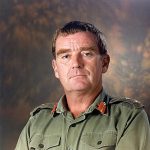 by Major General (Retired)Tim Cross CBE
WHY IS THERE NO LEADERSHIP on how best to work to resolve the terrible effects of genocide happening in the Middle East – where Christians are in real danger of being wiped out, extinguished from the lands they have lived in since the first century?
As reported in the last issue of this paper, aid organisation Barnabas Fund despairs over the brick wall it encounters in the Foreign and Commonwealth Office (FCO). In the same 12 month period, other governments took in 1,164 Christian refugees; Britain managed just 64.
The principal reason is the religious illiteracy of many senior officials across Whitehall who, because of their secular, atheist, or humanist faith position, don't think that spiritual faith matters. They simply don't understand that for literally billions of people around the world, religious faith provides an absolutely central plank of their identity.
Faith matters – it matters enormously; it is deeper and broader than just ISIS, and such prejudices from those who don't 'do' religion leads not just to a simplistic view of the crisis, but to a refusal to engage with representatives from the various non-Muslim faith groups, who have little or no say or influence in the political discourses or processes.
I got to know DFID (the Department for International Development) well in Kosovo, where my Brigade built and ran major refugee camps; I also worked with them and the FCO in Iraq in 2002/03, and with various NGO's (Non-Governmental Organisations) as well as the Ministry of Defence, DFID and the FCO since.
Whilst literally dozens of people work in departments across Whitehall on gender, sexuality, race or other equality strands – and time, treasure and talent is poured into such issues – no-one leads on faith related matters. Why is there no 'faith tsar'? It is simply not good enough to say, as a very senior Foreign Office Official said recently, that religion is a bad thing in the Middle East and we should therefore ignore it. This laissez-faire attitude is reflected in the time that the FCO gives for religious awareness training: a two-day course which is not even compulsory!
The result is a complete lack of understanding that Yazidis are not Christians, that historically Yazidis and Turkmen do not, to put it gently, get on well with each other, and that the Assyrian population includes Chaldeans and Syriacs. And that all of these people are suffering terrible atrocities, with the Yazidis and Christians being subjected to particular ferocity. In Syria, between 40% and 50% of indigenous Christians have left the country, and less than 250,000 Christians now live in Iraq, down from over a million in 2003 and 500,000 in 2013. The population of Assyrians has plummeted from 1.5 million in 2004 to around 300,000.
Crucially, this all leads to the aid given to the region by DFID being almost exclusively focussed on camps where the vast majority of the region's minorities are simply far too afraid to go. They are not being picked up by anyone, including the UN agencies, who are struggling to keep up with the scale of what is going on. A joint report by 16 NGOs called 'Ensuring equality' on the conditions of Christian and other minorities in the Middle East has just been presented to DFID; it follows four other recent major independent reports, all highlighting these issues and reaching the same conclusions.*
How many more reports will it take before Ministers and their senior officials open their eyes and do something to help the Middle East's minorities survive?
Retired Major General Cross is a Local Lay Minister in the Church of England and part of a Surrey church's leadership team. A previous President of the Armed Forces Christian Union, he served with the UN in Cyprus, commanded the UK Brigade that led the NATO response to the refugee crisis in Kosovo, and served in Baghdad in Iraq in 2003. His final appointment was the command of one of the three UK Divisions of the UK Field Army. 
* The Knights of Columbus report – written by academics from the Governance and Social Development Resource Centre think tank – was released in summer 2016 and was followed by the World Council of Churches report – led by the Norwegians – in December 2016, then the Alliance defending freedom – written by Human Rights Lawyers in January 2017 and the American Centre for Law and Justice on Genocide – February 2017.