Things are moving very fast towards the Bible's end-time scenario and the end of the age – so why are so many Christians asleep?
By Roger French
W e don't know if Putin's invasion of Ukraine is the start of events leading up to the prophesied invasion of Israel and we certainly don't know how far Putin will go – but God does.
While Christians seem to be asleep to the reality of the days in which we live, the Bible's account of Samson and Delilah is the classic case of someone letting their guard down and falling asleep spiritually. When Samson became aware that his strength had left him, it was too late to start fighting the enemy (Judges 16).
Samson once depended on God for his every move. But with his senses dulled, he thought that he could do what he had always done. God, however, being sovereign, doesn't always do what he did before.
Proverbs 3:6 says: "Acknowledge him in all your ways, and he will make your paths straight."
Most of our internal agony, our battles and frustrations, come from having misplaced confidence
To acknowledge means to observe him, think about him and get to know him more and more.
When we fall asleep in the lap of Delilah we become powerless, just like Samson. To avoid being caught out, God's people need to be alert, full of the Holy Spirit and sensitive to the reality of the days in which we are living. As the apostle Paul advises, "Let us not be like others, who are asleep, but let us be alert and self-controlled" (1 Thessalonians 5:6).
We need to be rooted in Christ, his Word, his promises and his ways. Most of our internal agony, our battles and frustrations, come from having misplaced confidence. Let's make sure our confidence is firmly placed in the Lord who has promised to be with us always and who will never let us down.
The apostle Paul's confidence comes from the assurance that he is in Christ and that his strength comes from Christ alone.
Confidence is taking your present situation, whatever obstacles you are facing, whatever limitations you are living with, whatever chronic condition may be wearing you down or past failures in life – admitting you don't like them, but drawing on God's strength to get through. As soon as we say, "I can't cope", we are contradicting the promises of God and failing to draw on the resources of the Holy Spirit within us.
Quitting is not an option for a Christian! I personally can't think of one quitter who was ever successful and am very grateful that Jesus never once considered quitting.
Three things can help us with confidence:
1. Establish your worth according to God's value system, not the world's. It's what God thinks that counts!
God's Kingdom is paradoxical in that the way to life is through death – the Cross and death to self (one's own agenda).
Jesus said: "Blessed are the meek (humble), for they will inherit the earth" (Matthew 5:5). This is opposite to the world's view.
God demonstrated our importance to him by creating us in his image. Thus we all have creative talents and gifts, things the devil hates.
If you had been the only person who had ever lived, the Father would still have sent his Son Jesus to redeem you. That makes you priceless!
God's promises will never be broken, because they are built on God's mercy which is everlasting.
"Though the mountains be shaken, and the hills be removed, yet my unfailing love for you will not be shaken nor my covenant of peace be removed", says the Lord, who has compassion on you (Isaiah 54:10).
2. Surround yourself with confidence-builders, encouragers who don't try to pull you down.
Most of us think good things about other people but we rarely tell them, so allow the Holy Spirit, the supreme encourager, to help you encourage others. However spiritually mature we may be, sincere encouragement never fails to help. There is no better exercise for strengthening the heart than stooping to lift somebody else up.
We are more than equal to the task to which God has called us
3. The third suggestion for helping us with confidence is that we should stop comparing ourselves with others. Each of us is unique, specially crafted and designed by God and more than equal to the task to which God has called us.
When we allow the Holy Spirit to do his work in us, we have total confidence in the Lord which in turn will influence those around us.
Isaiah said of God: "He will not falter or be discouraged till he establishes justice on the earth" (Isaiah 42:4).
So while we don't know what is coming next in the world, or when the Lord is coming for his Church, we do know that God knows the future. He is the future for every born again believer in Christ. Put your confidence in him.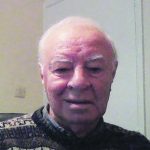 Roger French has been in church leadership in Chichester and Portsmouth for 38 years and was a lecturer at Christ For The Nations Bible College for 12 years. He has appeared in many Bible teaching and discussion programmes on Revelation TV with his friend and colleague Dr Richard Kent. Roger and his wife Sue have ministered in many countries including India, Spain, Jamaica, the Philippines and the Czech Republic. He is now working as an itinerant preacher and Bible teacher, mainly in the south of England.