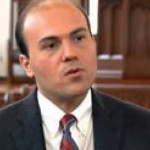 The law firm that successfully lobbied for the release of Christian pastor Saeed Abedini from Iran says the US administration ignored hostages in Iran while negotiating a nuclear deal with the country.
The ACLJ (American Centre for Law and Justice) now also says that the US negotiated with Iran, the leading state sponsor of terrorism, long before the public knew. In fact, when directly asked about it, the Administration lied, according to the ACLJ.
The legal campaigners add that a critical State Department briefing on the issue was recorded on a video that has now been deleted.
The ACLJ say: "We're taking direct legal action to get to the truth, to legally force the Administration to come clean. Who authorised the cover-up? Who lied?"