While many of President Trump's controversial decisions and tweets dominate the media, TV news programmes and the national press have so far been fairly silent on Trump's pro-life successes. However, it is being claimed that Trump's policies have saved more babies in the womb any other president.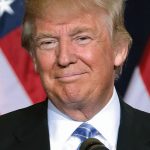 US pro-life leader Cheryl Sullenger says: "Even Reagan did nothing substantial to move the ball down the field. Trump's been great. The only reason he hasn't done better is that he's met with resistance in Congress… There's been no other president who has done more to protect babies from the death industry."
Trump selected a staunchly pro-life vice president, Mike Pence, who was the first VP to attend the March for Life protest. He appointed pro-life judge Neil Gorsuch to the Supreme Court, and signed an executive order stopping the funding of international organisations such as Planned Parenthod that promote abortion.
Trump has also made pro-lifer Jeff Sessions the US Attorney General. Sessions intends to investigate abortion clinics for crimes ranging from live-birth abortions to selling aborted body parts. Finally, Trump chose pro-lifer Tom Price to head Health and Human Services.
In the future, Trump aims to tighten the law to prevent federal funding for abortion and hopes to ban abortions after 20 weeks.