Faith for healing – and a free booklet
Pastor Les Potter says he hasn't been to a doctor or dentist for 40 years.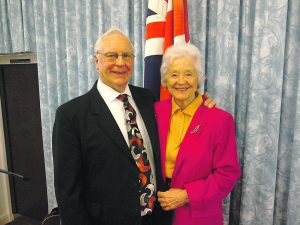 According to Pastor Les, he simply decided to believe the Bible's promises about healing and the miracles that Jesus and others did.
He and his wife Joan had already been married for 19 years before they became Christians. "I was on the verge of suicide," he recalls. "I just called out to God – and he rescued me. My wife got saved a few days later."
Soon Les was given a New Testament and read in Mark 16 that believers should lay hands on the sick. As Joan suffered from painful sinusitis, he simply laid his hands on her head – and within an hour the pain had gone.
Sadly the local vicar didn't believe Les and Joan: "All that finished with the apostles," he told Les. With the evidence of a healed wife before him, Les decided he'd believe the Bible.  A key book was 'Christ the Healer' by F F Bosworth and Les has written several booklets on healing himself, including 'Chemotherapy: the truth behind it'.
Les would like to offer this latest booklet, 'How to renew your youth and live in health' free to readers: "I believe that many Christians would find it of great benefit in their lives, especially at this time."
To order the booklet, send sae to Pastor Les Potter, 82 Mill Lane, Bradwell, Great Yarmouth, Norfolk NR31 8HR