African pastors desperately need Bibles and will travel miles for training, says Rev Mark Weeden, founder of Living Word Ministries
Over 90 per cent of all pastors worldwide do not have formal theological training, according to the World Evangelical Alliance.
Two pastors cycled 45 km to attend a conference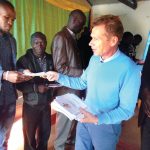 Working to fill this void, Living Word Ministries (LWM) ministers in Africa and India, running pastors' conferences and giving out literature and Bibles. Especially in the rural areas, many are hungry for the Word of God; two pastors cycled 45 km to attend a conference.
LWM takes seriously the Great Commission which Jesus Christ gave to the Church: "Make disciples of all the nations… teaching them to observe all things that I have commanded you" (Matthew 28:19-20). Where there is no electricity, we often show the 'Jesus' film using solar powered equipment.
Many Western Christians question the reality of Africans' response to the Gospel, but they live in a completely different environment to us. They see their need of God, often daily, without all the supports and securities we have in a developed economy.
The day after one outreach, four older teenage boys left school to come to the conference venue to thank me for sharing the good news of Christ, to which they had responded.
We've donated soap and toilet rolls to prisoners
In one African country, LWM has access to several prisons; we've been able to donate soap, sanitary items and toilet rolls and have seen some prisoners come to faith.
God also cares for the vulnerable; our Living Word orphanage at Seme, in western Kenya, is home to 35 orphans officially, but about 50 are now cared for at a practical level. Many of them lost their parents to the violence that erupted after Kenya's 2007 elections. However, equipment at the orphanage remains basic; medical items are in short supply and a few years ago one girl died after contracting malaria.
At the beginning of 2020, we were invited to oversee and teach a Bible school in Kenya, which has been able to function throughout the lockdown.
If you would like to hear about the work of LWM at your church, home group or men's or ladies' breakfast, please contact us on 07956 789 112 or email livingwordmlw@gmail.com
Our website shows lots more of the work: www.livingword ministries.co.uk